Just wanted to post a quick review of one book I finished during Thankfully Reading. This was an ARC which comes out next week and I think people should grab it up for the holidays!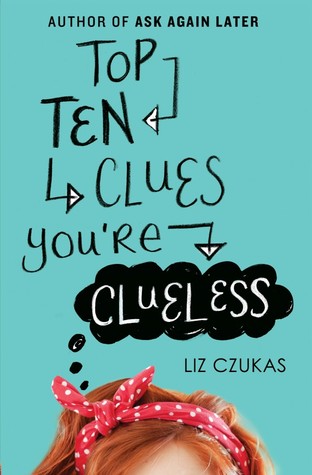 TITLE: Top Ten Clues You're Clueless
AUTHOR: Liz Czukas
PUBLISHER: Harper Teen
RELEASE DATE: December 9, 2014
FROM GOODREADS: Top Five Things That Are Ruining Chloe's Day

5) Working the 6:30 a.m. shift at GoodFoods Market

4) Crashing a cart into a customer's car right in front of her snarky coworker Sammi

3) Trying to rock the "drowned rat" look after being caught in a snowstorm

2) Making zero progress with her crush, Tyson (see #3)

1) Being accused—along with her fellow teenage employees—of stealing upwards of $10,000

Chloe would rather be anywhere than locked in work jail (aka the break room) with five of her coworkers . . . even if one of them is Tyson. But if they can band together to clear their names, what looks like a total disaster might just make Chloe's list of Top Ten Best Moments.
MY THOUGHTS:
Top 3 reasons I enjoyed this book:
1. A lot of diversity among the characters - different ages, different nationalities, different backgrounds and home life.
2. The lists! They were great - snarky, applicable to the chapters and interesting to read.
3. The Breakfast club feel. Come on, I was a child of the 80's and loved the brat pack.
This book and its characters were so likable. It takes place in a grocery store on Christmas Eve and I do believe I picked the perfect time of year to read it. The plot is fast paced and while it was somewhat predictable, there were just some elements the reader never sees coming. The one element is didn't necessarily like is Chloe's medical issue - diabetes. I feel so many YA novels are throwing in illness now as it is the "in" thing to do. However, in this book, the illness is not overdone and is not the main plot of the storyline, more like a side note.
I am pleased I received an advanced copy of this book and really think the author hit this one out of the park.
Top Reasons You Should Read This:
1. Because it is perfect for the holiday season.
2. Because you just might love it as much as I did.
RATING: 4 PAWS