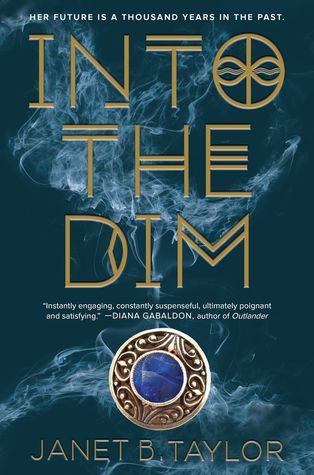 TITLE:
Into the Dim (Into the Dim #1)
AUTHOR:
Janet B. Taylor
PUBLISHER:
HMH Books for Young Readers
PUBLISHING DATE:
March 1, 2016
FROM GOODREADS:
When fragile, sixteen-year-old Hope Walton loses her mom to an earthquake overseas, her secluded world crumbles. Agreeing to spend the summer in Scotland, Hope discovers that her mother was more than a brilliant academic, but also a member of a secret society of time travelers. Trapped in the twelfth century in the age of Eleanor of Aquitaine, Hope has seventy-two hours to rescue her mother and get back to their own time. Along the way, her path collides with that of a mysterious boy who could be vital to her mission . . . or the key to Hope's undoing. Addictive, romantic, and rich with historical detail, Into the Dim is an Outlander for teens.
MY THOUGHTS:
After having read a book last week which could have easily put me into a slump (for not so good reasons), Into the Dim was just what I needed to pull me through it. This new release has been extremely hyped for months, which normally terrifies me, but when I had the chance to grab an ARC, I couldn't resist. I am really glad I hit that request button. I have also heard this book being called "Outlander for young adults" and while I have never read Outlander, after reading this, if the comparisons are true, I want to pick it up so much more.

Into the Dim tells the story of Hope, whose mother has been missing for over 8 month and just recently declared dead. Her father is in a newly formed relationship, so Hope is sent to Scotland for the summer to meet some relatives who have never really played a big role in her life. Once there, Hope learns of her mother's time traveling escapades and is sent back in time to rescue an important family member and locate and retrieve a mysterious stone.

I really enjoyed many of the characters we meet along Hope's travels. She manages to make some good friends in Scotland, which is a new thing for her because she has always been a home schooled loner. Although Hope seems somewhat shallow in the beginning, throughout the book, the author manages quite a bit of character development and toward the end , I found myself really invested in what happens to her. Also, while there are some romantic involvements in the book, I didn't find them overpowering or for lack of a better word, corny, and they added to the plot and story line rather than overpowering it.

The setting is also a wonderful addition to Into the Dim. Taylor manages to provide a great modern tale with a strong historical piece which I found really interesting. I imagine quite a bit of research went into writing this book and a lot of readers will be able to appreciate that fact.

This book has been getting mixed reviews and honestly, I wasn't sure if I would like it enough to be invested for 432 pages. However, I was quickly pulled into it's world and can't wait for the next installment to see what the future holds for Hope, her family and her friends.

I received this book from Netgalley and the publisher in exchange for an honest review.
RATING: 4 PAWS