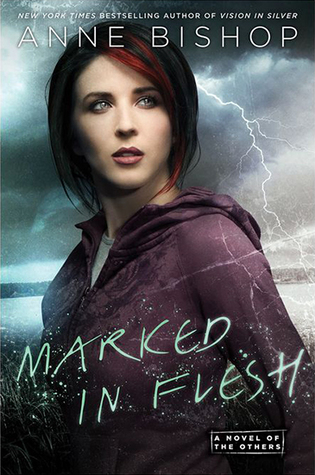 TITLE:
Marked in Flesh (The Others #4)
AUTHOR:
Anne Bishop
PUBLISHER:
Penguin/Roc
PUBLISHING DATE:
March 8, 2016
FROM GOODREADS:
For centuries, the Others and humans have lived side by side in uneasy peace. But when humankind oversteps its bounds, the Others will have to decide how much humanity they're willing to tolerate—both within themselves and within their community...

Since the Others allied themselves with the cassandra sangue, the fragile yet powerful human blood prophets who were being exploited by their own kind, the delicate dynamic between humans and Others changed. Some, like Simon Wolfgard, wolf shifter and leader of the Lakeside Courtyard, and blood prophet Meg Corbyn, see the new, closer companionship as beneficial—both personally and practically.

But not everyone is convinced. A group of radical humans is seeking to usurp land through a series of violent attacks on the Others. What they don't realize is that there are older and more dangerous forces than shifters and vampires protecting the land that belongs to the Others—and those forces are willing to do whatever is necessary to protect what is theirs…
MY THOUGHTS:
Anyone who knows me knows how much I love this series. I rave about it all the time and recommend it to practically everyone. I never dreamed when I grabbed "Written in Red" from the library on impulse (and because I liked the cover) that it would become one of my faves. So needless to say, I was thrilled when Penguin/Roc provided me with an advanced copy of the newest installment. I almost immediately dropped what I was reading and started it, but I did manage to hold off for a few days because I am chronically a one-at-a-time book kind of gal.

Marked in Flesh takes up where Vision in Silver left off. The relationship between The Others (terra indigene) and humans has always been strenuous at best. Now, the humans are waging a way, but The Others aren't having it. And let's just say The Others seem to have more resources.

While I felt this book was a tad slow in the beginning, that feeling didn't last long and I was quickly immersed back into the Courtyard life. Marked in Flesh introduces some new characters and given that there were already quite a few, I was a tad confused initially. Also, while Simon and Meg play pertinent roles in the book as always, there weren't the main focus as in the past and I was left wanting a little more of them. But, you might have noticed I still gave it a 5 paw rating because even with those few points, this book is still freakin' awesome. There is plenty of action, lots of plot twists and turns and truly enjoyable characters. This is one of the few series where so many unique creatures have been woven together so well that an extremely magical world is created.

If you have started this series, pick this up as soon as it is released and if you haven't started it, what are you waiting for? It's important for me to also note that my weather ponies also make an important appearance or two in this book and I STILL want one for a pet.

I was provided an ARC of this book from the publisher in exchange for an honest review.
RATING: 5 PAWS