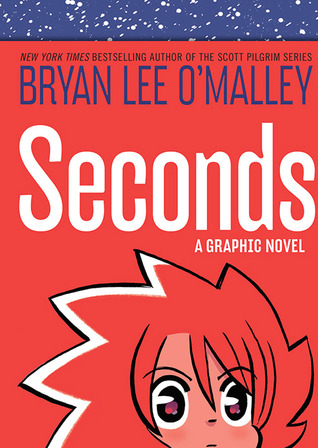 TITLE: Seconds - A Graphic Novel
AUTHOR: Bryan Lee O'Malley
PUBLISHER: Ballantine Books
PUBLISHING DATE: July 15, 2014 (Out now!)
FROM GOODREADS:
#1 NEW YORK TIMES BESTSELLER

The highly anticipated new standalone full-color graphic novel from Bryan Lee O'Malley, author and artist of the hugely bestselling Scott Pilgrim graphic novel series

Katie's got it pretty good. She's a talented young chef, she runs a successful restaurant, and she has big plans to open an even better one. Then, all at once, progress on the new location bogs down, her charming ex-boyfriend pops up, her fling with another chef goes sour, and her best waitress gets badly hurt. And just like that, Katie's life goes from pretty good to not so much. What she needs is a second chance. Everybody deserves one, after all—but they don't come easy. Luckily for Katie, a mysterious girl appears in the middle of the night with simple instructions for a do-it-yourself do-over:

1. Write your mistake
2. Ingest one mushroom
3. Go to sleep
4. Wake anew

And just like that, all the bad stuff never happened, and Katie is given another chance to get things right. She's also got a dresser drawer full of magical mushrooms—and an irresistible urge to make her life not just good, but perfect. Too bad it's against the rules. But Katie doesn't care about the rules—and she's about to discover the unintended consequences of the best intentions.

From the mind and pen behind the acclaimed Scott Pilgrim series comes a madcap new tale of existential angst, everyday obstacles, young love, and ancient spirits that's sharp-witted and tenderhearted, whimsical and wise.
MY THOUGHTS:
I haven't had a book this year below a 3 star rating and while that is great, it makes me wonder when the ax is going to fall. That being said, Seconds was ax free. I loved this graphic novel and was so glad when I saw it at my local library as it has been popping up all over booktube.
Seconds tells the story of Katie and her messed up life (as she sees it). I believe Katie is a tad young for a mid-life crisis, but what she is going through sort of resembles one. She is in the process of building a new restaurant, getting over a breakup, and making new friends when she stumbles across a "house elf" who lives in her current restaurant/apartment building. Katie learns she can eat a magic mushroom and actually change something in her past, wake up the next morning and start anew. However, Katie can't stop at one magic mushroom do-over, and she has soon created a bunch of chaos along with inviting some evil spirits in. I am sure I heard about these magic mushrooms in college and I am pretty sure they created similar problems, hmmmmm...
Nonetheless, the title "Seconds" says so many things about this book. Katie is looking to open a new, more exciting second restaurant, which is the cause of a lot of her angst. The name of her first restaurant is Seconds. She keeps having seconds (and thirds and fourths and fifths) of the magic mushrooms and she is constantly looking for a second chance with many of her relationships. There is another second analogy I could insert, but as it is a bit spoilerish, I will just say "Read it yourself!"
The art in the graphic novel, while wonderful and appropriate, can best be described as simplistic. The color tones are primarily oranges, reds, yellows and black with a few pages of purple when the evil gets really ramped up. Looking at this, simplistic isn't really being fair. The art is great, but this book seemed less muddied than some more recently read graphic novels. I have never read the Scott Pilgrim books, and I enjoyed this stand alone. I recommend it to anyone who like great art and a great storyline.
RATING: 4 PAWS