OK, now before I say this, I will admit I am grateful that I am not in Boston, or any other New England area state, but can I say that I am sick of winter. I can handle snow, and would gladly take more of it if I could trade the single digit, sometimes in the negative, temps we have been having. The dogs are tired of being cooped up, as are their owners. I am tired of seeing blankets all over the house and hearing the steady drip of water needed to protect the pipes in this 145 year old abode. Oh well, complaining won't change things so enough said and onto the books!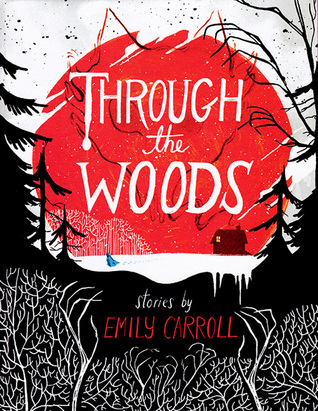 TITLE: Through the Woods (Graphic novel)
AUTHOR: Emily Carroll
PUBLISHER: Margaret K. McElderry Books
PUBLISHING DATE: July 15, 2014
FROM GOODREADS:
It came from the woods. Most strange things do.'

Five mysterious, spine-tingling stories follow journeys into (and out of?) the eerie abyss.

These chilling tales spring from the macabre imagination of acclaimed and award-winning comic creator Emily Carroll.

Come take a walk in the woods and see what awaits you there...
MY THOUGHTS:
I have wanted to get my hands on this for quite some time so I was thrilled to learn my library had recently purchased it. I was in between Kindle chargings late one night so I picked this up and devoured it in one sitting.

Through the Woods is a graphic novel collection of 5 stories. The stories are dark, dreary and scary, and while I enjoyed the book, I was left wanting something more. The artwork is harsh and stark, which works well with the scary tales. It is primarily done in black, white and red, with some blue thrown in from time to time. This simplistic approach works well with the subject matter and some of the pictures are rather graphic (imagine a face of worms).

I guess I am not an easy scare. The stories, while interesting, just didn't give me the terrifying vibe I was anticipating. Don't get me wrong, the book is definitely worth a read, but I am glad I did not purchase my own copy as I don't see me ever picking it up again and for an hour or so read, my money could best be spent elsewhere.
RATING: 3 Paws