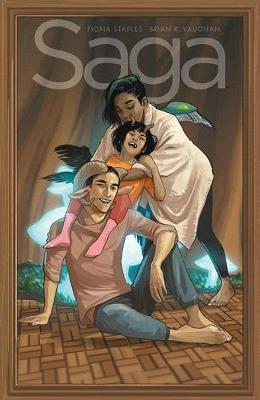 TITLE: Saga Vol. 9
AUTHOR: Brian K. Vaughan, Fiona Staples
PUBLISHER: Image Comics
PUBLISHING DATE: October 2, 2018
FROM GOODREADS:
The multiple Eisner Award-winning series returns with a spacefaring adventure about fake news and genuine terror. Get ready for the most shocking, most impactful SAGA storyline yet.
Collects SAGA #49-54
MY THOUGHTS: So at this point, it's impossible to give this the review it deserves without spoiling it so I'll probably keep this short and sweet. So many bloggers I trust mentioned that something shocking/drastic/indescribable happens in this edition and man, the authors sure didn't pull any punches. I don't know that I'll ever get over the ending. I mean, I actually tossed the book on the couch and declared "I'm done!" as in forever. However, I doubt that's true. On the plus side, I did get to see some more of cute little Ghus in this one.
RATING: 5 PAWS (and one ripped out heart!)