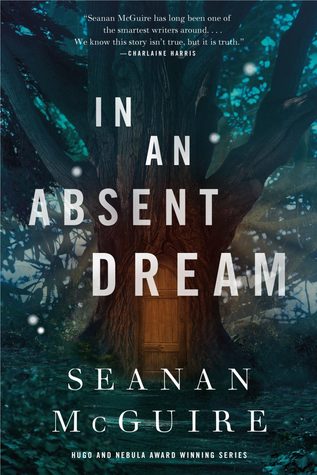 TITLE: In An Absent Dream (Wayward Children #4)
AUTHOR: Seanan McGuire
PUBLISHER: Tor.com
PUBLISHING DATE: January 8, 2019
FROM GOODREADS: This is the story of a very serious young girl who would rather study and dream than become a respectable housewife and live up to the expectations of the world around her. As well she should. When she finds a doorway to a world founded on logic and reason, riddles and lies, she thinks she's found her paradise. Alas, everything costs at the goblin market, and when her time there is drawing to a close, she makes the kind of bargain that never plays out well. For anyone . . .
MY THOUGHTS: So people who know me and know my reading habits are already fully aware of how much I love this series. Now I will admit that "Beneath the Sugar Sky" fell somewhat flat for me but I blame that on the fact that it reminded me too much of Alice in Wonderland and Alice and I are not friends. However, I was very eager to get my hands on this newest installment and see if my love affair was still in tact and I am thrilled to say it is.
"In An Absent Dream" follows Lundy though her childhood. As a young child, Lundy never fit conventional molds. Instead of making friends and playing "normal" children games, Lundy much preferred reading and losing herself in books (so you can see the appeal right?). One day, on the way home, she is reading a book when her feet take her the wrong way. Lundy stumbles upon a twisted tree with a doorway which leads her to the Goblin Market and introduces her to all kinds of interesting characters. However, as Lundy grows, she learns everything at the Goblin Market has a cost and not paying fairly has some serious consequences.
So Lundy was a fun character. I loved her love of reading and felt for her because in the "real world" she never really felt like she belonged. Throughout the book Lundy visits the Goblin Market several different time and for a novella length book, we actually get to visit quite a time span. There are some wonderful creatures at the Market and Lundy quickly meets her first and only best friend, Moon. Moon is quirky and careless and personally I'm surprised she survived in the Market as long as she has, but she is also endearing and fun.
Birds play a VERY important role at the Goblin Market and my bird-loving dog Cass definitely approves of the nature of McGuire's consequences. If you want to know more, you'll just have to read the series and find out. While "In An Absent Dream" ties into the other three installments somewhat, I would call it more of a companion book and do think you could read this one out of order but why would you? All four books are novella length and have such a whimsical fairy tale nature that I would definitely recommend the series to everyone.
RATING: 5 PAWS