I'm not entirely sure how this SECOND series buddy read came about. I think Stormi and I were talking about the TV series - how much she loved it and how I wanted to watch it but always wanted to read the books first. I said I even owned the first and she said she read it some time ago but wanted to reread it now. And thus, the buddy read of the All Souls Trilogy was born. Don't fret, we haven't abandoned Kate Daniels, that's still going on as well. So read on to see what I thought of the first book in the series and then

then hop over to Stormi's

at

Books, Movies, Reviews! Oh My!

and read her opinion.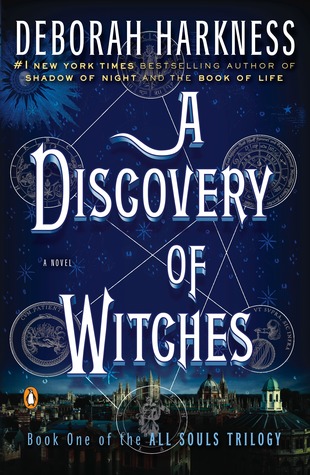 TITLE: A Discovery of Witches (All Souls Trilogy #1)
AUTHOR: Deborah Harkness
PUBLISHER: Viking Penguin
PUBLISHING DATE: February 2011
FROM GOODREADS: Deep in the stacks of Oxford's Bodleian Library, young scholar Diana Bishop unwittingly calls up a bewitched alchemical manuscript in the course of her research. Descended from an old and distinguished line of witches, Diana wants nothing to do with sorcery; so after a furtive glance and a few notes, she banishes the book to the stacks. But her discovery sets a fantastical underworld stirring, and a horde of daemons, witches, and vampires soon descends upon the library. Diana has stumbled upon a coveted treasure lost for centuries-and she is the only creature who can break its spell.


MY THOUGHTS:
I am really so glad that I picked this up. I had considered it forever but it was really Stormi's excitement over the series that I found contagious which prompted me to move on. "A Discovery of Witches" kind of read like a historical fiction to me when it really wasn't. However, it is laced with academics and historical talks and events so I guess my feelings were understandable. Diana Bishop comes from a long line of witches. She has made a life for herself as a college professor in alchemy and eschewed all witchcraft except in dire circumstances, such as an overflowing washing machine, because she wanted to make it on her own accord. Also, her parents, powerful witches in their own right, were brutally killed when she was very young.
One day, while preparing for a lecture in Oxford, she is able to access a bespelled ancient manuscript. She doesn't realize it as first but soon she has captured the attention of numerous, witches, vampires and daemons. Before long Diana runs into Matthew Clermont, an ancient vampire, who vows to help Diana but also falls for her in the process. Together they try to piece together what is going on while staying alive.
"A Discovery of Witches" is full on complex characters, some are wonderful, some are downright awful, and a lot are morally grey. However, it was so interesting to get to know them and learn about their histories and what "makes them tick." I liked Matthew right away and was slow to warm to Diana, but I eventually did. I also disliked Matthew's mother Ysabeau tremendously but even she turned that around and by the end, I had started liking her too. Some of the best characters are the side characters - Marthe the housekeeper, Marcus, Matthew's son, and Em and Sarah, Diana's aunts. To be honest, I would tell people to read the book so they can get a good taste of Em and Sarah's home - that alone is worth the price of reading this one.
So overall you could say I really enjoyed this book. It did kind of lag in the beginning but that is probably to be expected with a book of over 570 pages. There is a lot to set up in this world. There is quite a bit of romance but it's not over-the-top or thrown in your face. And while I honestly thought I was through with romantic vampires, this book changed my mind. Perhaps because Matthew is so complex and because even though he can be quite romantic, he doesn't hide that he is a vampire by nature which means he sometimes does mean and ruthless things.
My copy of the next book in this series arrived earlier this week so I'm all set to continue on with our buddy read next month. With how "A Discovery of Witches" ended, I'm very anxious to start "Shadow of Night."
RATING:
4 PAWS
COYER CHALLENGE UPDATE:
Read an entire series (book 1 of 3)