TITLE:
This Is Not a Love Story
AUTHOR:
Mary Hargreaves
PUBLISHER:
Trapeze
PUBLISHING DATE:
June 11, 2020
FROM GOODREADS:
Maggie Gardiner isn't good enough. She had six glasses of wine at a work conference, woke up covered in curry and has accidentally ended up living with the boring guy who was supposed to be a one night stand. Something has to change. Every other twenty-something on Instagram seems to have their sh*t together, so why doesn't she? And so she makes a list. When she's ticked off every item, she'll become Maggie 2.0 - the best version of herself, and the one she wants to be. Won't she...?
1. Go vegan. It worked for that girl on Twitter.
2. Take up yoga - that woman she hate-follows swears by it
3. Start practicing mindfulness - all those people can't be wrong...
4. Quit smoking. It's not 1999.
This Is Not A Love Story is a book for anyone who's ever wished they were perfect. It's a book for anyone who feels like a failure. And it's not a love story, it's a real story. And it's hilarious.

MY THOUGHTS:
So let's just get this out of the way first. I have to give Hargreaves some credit because I can't remember the last time I despised a character so badly in the beginning of the book and made a complete 180 turnaround to end up loving them in the end. But that's just what happened with Maggie.
Maggie is a 27 year old miserable person. She has a live-in boyfriend she doesn't like, a job she doesn't even try at, and a lot of bad habits she thoroughly embraces. However, Maggie has decided she needs to make some changes. Like I said, I didn't really like Maggie at first. I even told my friend that I was more mature at 12 than Maggie was at 27. But deep down, Maggie did have some reasons. For one, she had very little self esteem. She grew up with a brother and sister and for whatever reason, always felt like she came in 3rd place. Maggie also has a group of friends whom have been together since school, and she also feels like she doesn't measure up to them. Because of this, and add in a tendency to get very drunk and make poor decisions (heck, she doesn't even really need to be drunk) and Maggie often comes across as a mean girl - in the beginning.
As the book progresses, Maggie starts making some changes. She meets some new people and realizes she really wants a better relationship with her family. She also wants to really have the plant her dear grandmother gave her to live - pay attention, the plant is very important. As is her relationship with her grandmother which was one of my favorite things in the book.
So needless to say, about halfway in I started cheering Maggie on. I wanted her to succeed and I also wanted her to realize all the things she had going on her when the book first started.
This Is Not a Love Story
will sometimes make you laugh and sometimes make you cringe but I dare you to read it and believe that it really isn't a love story. I beg to differ. I think it's one of the best love stories of all - learning to love yourself!
RATING:
4 PAWS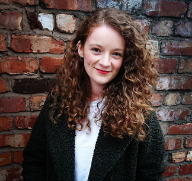 ABOUT THE AUTHOR:
Mary Hargreaves lives in Manchester and enjoys writing and
reading things that cleverer people have written. She hates waiting, musicals and Pinot Grigio.
This Is Not A Love Story
is her
debut novel.