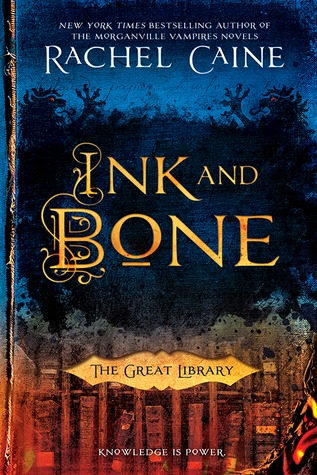 TITLE: Ink and Bone
AUTHOR: Rachel Caine
PUBLISHER: NAL
PUBLISHING DATE: July 7, 2015
FROM GOODREADS:
In an exhilarating new series, New York Times bestselling author Rachel Caine rewrites history, creating a dangerous world where the Great Library of Alexandria has survived the test of time.…

Ruthless and supremely powerful, the Great Library is now a presence in every major city, governing the flow of knowledge to the masses. Alchemy allows the Library to deliver the content of the greatest works of history instantly—but the personal ownership of books is expressly forbidden.

Jess Brightwell believes in the value of the Library, but the majority of his knowledge comes from illegal books obtained by his family, who are involved in the thriving black market. Jess has been sent to be his family's spy, but his loyalties are tested in the final months of his training to enter the Library's service.

When he inadvertently commits heresy by creating a device that could change the world, Jess discovers that those who control the Great Library believe that knowledge is more valuable than any human life—and soon both heretics and books will burn.…
MY THOUGHTS:
Lately I have been seeing quite a few comparisons between this book and Harry Potter, and let me say, I am getting really tired of comparisons. I mean, right now, every thriller I pick up seems to be dubbed "the next Gone Girl." I believe books should stand on their own, although I realize comparisons do manage to get additional people to give the book a try who might not have otherwise given it a second glance. Ink and Bone needs be judged on its own value, which in my opinion is AWESOME!
I have read an adult book by Rachel Caine as well as the first Morganville Vampire book, but nothing prepared me for this. I found the book extremely well-written and action packed. Yes, it is sort of like Harry Potter - let's get that out of the way. A group of young adults gain entrance to an academy to learn the ways of "The Library." Owning precious books is forbidden in this world and the Library is charged with maintaining the one main library of the land. These young adults trying to become Scholars or Guarda are a motley crew, and the main character, Jess Brightwell, comes from a notorious group of book smugglers. Caine immediately forges a connection between the reader and the characters, even some of the less pleasant ones. Some mysteries of the book are initially easy to figure out, and some are not quite what is expected. The characters in this book are also quite diverse, which made it much more interesting.
The end of the book blew my mind and while it did wrap up most of the plot lines, it still left me hanging and wanting more. Without giving anything away, all I can say is hold on to your seats. In addition, I don't know when the second installment is due to be released, but I can already say it is probably much farther away than I would like. Don't hesitate to give this book a whirl. While I believe it is classified as Young Adult, is reads much like an adult novel and I believe it can be enjoyed by those of many ages.
Disclaimer: I received this from Penguin First to Read in exchange for an honest review.
COYER SCAVENGER HUNT #21 - Read a nook featuring a male protagonist. (Double points for Red, White and Blue Read-a-thon!)