This top 10 weekly meme is hosted by The Broke and the Bookish and can be found
HERE
. Each week they focus on lists which cover various topics related to books and reading.
OK, class is in session. This class is for everybody who likes to embrace their weirdness every once in a while. Here are some books which are definitely WEIRD - some in good ways, some in bad ways and some in ways altogether unique.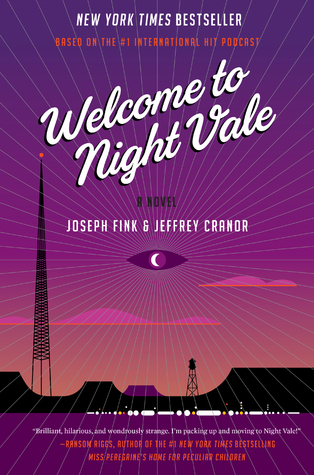 Here's a small piece of my original review which sums up this book's weirdness...and also STILL leaves me confused - "
This book is about Diane, Jackie, Diane's son and a shapeshifter named Josh, a waitress in the local diner who is actually a tree, a man named Evan who walks around town appearing and disappearing and handing people pieces of paper with KING CITY written on it, 30-40 men named Troy (or actually the same man, just multiples of him), a tarantula, secret agents and exploding flamingo lawn decorations.
"
VERDICT - WEIRD IN A BAD WAY!
Stuart R. West has become one of my favorite horror authors. "
West's description of Hell itself, and of the hellhounds with human heads which show up toward the end, were spot on with what I associate with old-fashioned horror. If you like scary books, aren't afraid of a little blood and gore, and don't mind some comedic spins thrown in here and there, this books might just be worth your time.
"
VERDICT - WEIRD IN A GOOD WAY!
Still unsure about this one. "
The mystery in this tale is pretty unsatisfying and I would be hesitant to classify it as such. To be honest, this book is pretty hard to classify in general. I'm not sure who to recommend it to but I'm sure fans of Lovecraft will be curious what it is all about and will find some worth in picking it up. I don't regret reading it because it's nice to read outside one's comfort zone, but I would never pick it up again.
"
VERDICT - JUST PLAIN WEIRD!
I made it through the first 9 books and initially loved Anita Blake's character but the books just kept getting weirder and weirder. I always planned to pick the series back up but now there are so many, I doubt it will ever happen.
VERDICT - WEIRD IN A "HOW MANY CREATURES CAN SHE HAVE SEX WITH?" WAY
This recent horror release didn't get much hype but I really liked it. "
There is also a lot of foul language in the book but that doesn't really bother me much - especially in a horror tale. However, I was really engrossed in finding out Mormama's purpose, learning all about the Ellis family, and discovering how this book could ever present me with a satisfying ending." Guess what? It did!
VERDICT - WEIRD IN A VERY UNIQUE WAY
Definitely a different kind of book. "
It's a mystery, but not really a mystery, it has a lot to say about stereotypes, but what does it really say, and on and on..." It does have one of my favorite quotes ever though - "
Kids are for people who can't have dogs!
"
VERDICT - WEIRD IN A "I CAN'T REMEMBER READING THIS" WAY
All my regular readers know how much I love this extremely weird and extremely unique novella series linked to the Seven Deadly Sins. Book 2 was one of my faves. "
This book is as twisted and demented as the first one, and that's a good thing."
VERDICT - WEIRD IN THE BEST WAY POSSIBLE
"
Insanity has escaped Jesus' hold on him and is causing havoc somewhere in 1978, all the while looking for the perfect sandwich makers. Several of God's servants/personalities, such as The Muse, Contradiction, Leviticus and Satan assist in locating him, and while doing so, unleash 3 of the 4 Horses of the Apocalypse."
VERDICT - JUST FLAT OUT WTF????
This book has managed to stick with me for years. "
The Library at Mount Char shows the reader how scary the world can be, but made me grateful that things haven't gotten as bad as it could yet.
" Maybe 2015 me was able to see the future.
VERDICT -WEIRD IN A BEAUTIFULLY MESSED UP WAY
I don't think I've read a Christopher Moore book I didn't like. This is one of my favorites which really showcases the way his mind works.
WEIRD IN A NON-TRADITIONAL SORT OF WAY