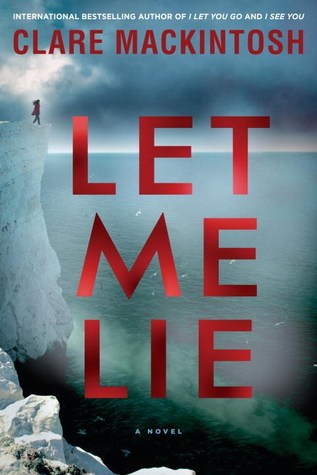 TITLE: Let Me Lie
AUTHOR: Clare Mackintosh
PUBLISHER: Berkley
PUBLISHING DATE: March 13, 2018
FROM GOODREADS:
Two years ago, Tom and Caroline Johnson committed suicide, one seemingly unable to live without the other.
Their adult daughter, Anna, is struggling to come to terms with her parents' deaths, unable to comprehend why they chose to end their lives. Now with a young baby herself, she feels her mother's presence keenly and is determined to find out what really happened to her parents.
But as Anna digs up the past, someone is trying to stop her. She soon learns that nothing is as it seemed.
MY THOUGHTS:
I've had kind of a hit and miss relationship with thrillers for the past six months or so. I go into them wanting to love them and hearing others rave about them only to be disappointed and feel like maybe the genre is out to get me. Therefore, you can imagine I didn't have high expectations for "Let Me Lie." I also have not read any of Mackintosh's other books so I didn't really know what to expect. Imagine my surprise at ending up really enjoying this book and finding it hard to put down.

The format of the book worked great for me. It's told in three distinct parts and each part has a cliffhanger which changes the direction for the remainder of the books. Also, it's told from three perspectives. Anna, who recently had a baby and lives with her partner Mark, Murray, a retired detective and his mentally ill wife Sarah, and an unknown party. Two years ago Anna's father committed suicide and seven months later, her mother followed the exact same path. However, now that the year anniversary is arriving, something happens which leads to Anna questioning if her parents actually committed suicide or if they were murdered.

While I didn't really like many of the characters in this book, I felt that wasn't even important. Anna was okay but I actually found her kind of annoying. Yet this didn't interfere with my reading enjoyment because man, I needed to know what was going on. I did grow quite fond of Murray and his wife. He was the grounding voice of reason in the book for me and the relationship with is mentally ill wife Sarah was truly beautiful.

It's hard to review this because I don't want to give anything away. I will warn readers, there is an act of animal cruelty against a bunny which I did not appreciate and which I feel was included for shock value. Also, there are a few surprises at the end, one of which is didn't necessarily need or agree with which is why I went with 4/5 rather than 5/5. So if you like thrillers, and even if you've been burned by them in the past like me, this might be one you want to consider reading.

I received my copy from the Penguin First to Read program in exchange for an honest review.
RATING: 4 PAWS