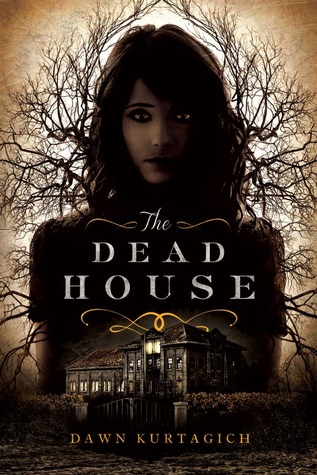 TITLE:
The Dead House
AUTHOR:
Dawm Kurtagich
PUBLISHER:
Little Brown Books for Young Readers
PUBLISHING DATE:
September 15, 2015
FROM GOODREADS
:
Debut author Dawn Kurtagich is dead on in this terrifying psychological thriller!

Over two decades have passed since the fire at Elmbridge High, an inferno that took the lives of three teenagers. Not much was known about the events leading up to the tragedy - only that one student, Carly Johnson, vanished without a trace...

...until a diary is found hidden in the ruins.

But the diary, badly scorched, does not belong to Carly Johnson. It belongs to Kaitlyn Johnson, a girl who shouldn't exist Who was Kaitlyn? Why did she come out only at night? What is her connection to Carly?

The case has been reopened. Police records are being reexamined: psychiatric reports, video footage, text messages, e-mails. And the diary.

The diary that paints a much more sinister version of events than was ever made publicly known.
MY THOUGHTS:
First I want to say that I have recently found Dawn Kurtagich's videos on Booktube and I really enjoy them. She seems to energetic and quirky and I can tell she really loves books. Second, this book has been SOOOOOO hyped the past few weeks - everywhere. However (and you could tell this was coming), I am afraid I wanted to love this book a whole lot more than I actually did. That's not to say I didn't enjoy reading it, because most of the time I did, and I think it is a strong debut novel, but I can't help but compare this book to a roller coaster ride where I so desperately want to get off.

I loved the premise of this book. It didn't bother me that it was written in the form of emails, newspaper clippings, transcriptions of videos, etc., but I found it all jumped around too much for my liking. Also, I still don't know if this book was a book about possession or mental health. I understand it was a fine line throughout the novel, but it would have been nice to have a definite answer.

Finally, I didn't connect with Carly/Kaitlyn. In my defense, she was 2 souls in one body so I would imagine it would be really hard to connect with her. I wasn't really rooting for either one. The other characters were somewhat interesting and added flavor to the book, but I sort of discovered "the evil being" long before it being disclosed.

Please don't read this and think I am saying "Don't read this." The book is a cluster-f but it is something I haven't really read lately. I also think the author has to be a genius, or nuts, to put such a book together. I will definitely be keeping an eye on Kurtagich in the future because I honestly can't wait to see what she comes up with next.

I received this ARC from Netgalley in exchange for an honest review.
RATING: 3 PAWS
This is my 2nd read for the R.I.P. Challenge - Go me!