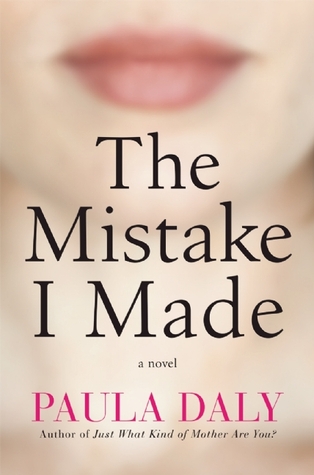 TITLE
: The Mistake I Made
AUTHOR:
Paula Daly
PUBLISHER:
Grove Press
PUBLISHING DATE:
September 15, 2015
FROM GOODREADS:
The Mistake I Made is the latest page-turner from one of the England's most captivating new thriller writers. In her provocative and riveting third novel, Paula Daly focuses her masterful eye for psychological suspense and family drama on an indecent proposal that has fatal repercussions.

Single mother Roz has a reached breaking-point. After the dissolution of her marriage, Roz's business has gone under, debts are racking up, the rent is late (again), and she's struggling to provide for her nine-year-old son, who is starting to misbehave in school. Roz is in trouble. Real trouble.

When Roz returns home from work one day and finds an eviction notice, she knows that it's time for action—she has two weeks to find a solution otherwise they will be kicked out of their home. Increasingly desperate, Roz doesn't know where to turn. Then the perfect opportunity presents itself. At her sister's fortieth birthday party, Roz meets Scott Elias—wealthy, powerful, and very married. But the impression Roz leaves on him is indelible. He tracks her down and makes Roz an offer to spend the night with him—for money. He wants no-strings-attached intimacy and can guarantee total discretion. Could it be as simple as it sounds? With that kind of cash, Roz could clear her debts and get her life back on track. But as the situation spirals out of her control, Roz is forced to do things she never thought herself capable of. Can she ever set things right again?
MY THOUGHTS:
I went in to this book not completely knowing what to expect. I knew it was being marketed as a thriller, and I have been on a real kick with those lately, so I couldn't wait to give this book a chance. I did enjoy it, just not as much as I expected.

Roz is basically a single mother as her ex has little responsibility in raising their son. Her divorce and change in job circumstances lead Roz to make some bad decisions to assist her financial standing. And by bad decisions, I mean REALLY bad. In fact, I joked at one point that instead of being called "The Mistake I Made" perhaps it should be called "The MistakeS I Made...Over and Over Again." I had a hard time connecting with Roz. While I don't mind about reading about some infidelity, I will admit it isn't my favorite plot point. And I just couldn't understand why Roz kept making stupid decisions over and over again.

Overall, this book wasn't a bad read. I was interested to find out what happened next, and the conclusion of the book was rather satisfying. I may search out some additional Daly titles as her writing style was pleasurable and she can tell a good story. I just think some of the subject matter of wasn't my forte. However, if you enjoy a good thriller, you shouldn't hesitate to give this one a go.

Note: I was provided a copy of this book by the publisher through Edelweiss in exchange for an honest review.
RATING: 3 PAWS
COYER SCAVENGER HUNT CHALLENGE #23 - Read a book set in a foreign country (book is set in England I live in the US).