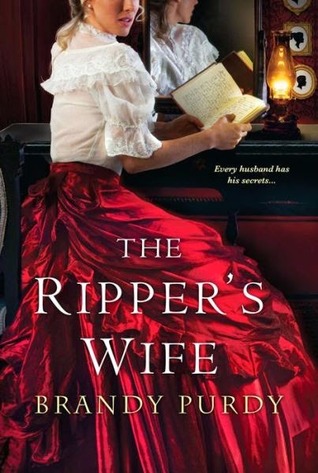 I was contacted last month by a wonderful author, Brandy Purdy, after featuring her upcoming Lizzie Borden novel on Waiting on Wednesday. She really seems like a wonderful person and she so graciously sent me an ARC of "The Secrets of Lizzie Borden" and a finished copy of "The Ripper's Wife" for review. I started "The Ripper's Wife" a few days ago and while I had planned to have it finished by Halloween, I don't see that happening. However, I am enjoying this book tremendously and in honor of the season, wanted to provide you with a small except so you can get an idea just how chilling this book is. I often think "real" monsters are the scariest and the monster in this book is no exception.
EXCERPT:
"When you open the cover, that's when the horror begins. Your skin begins to crawl and you blood begins to chill, and you discover that this battered old diary is anything but ordinary. No dreaded dentist appointments, tedious afternoon teas with a vicar avariciously fond of cucumber sandwiches and saving cannibals' souls, quarrels with the giddy young wife about her ludicrous, exorbitantly priced bonnets-silly things sprouting stuffed canaries and spinach! However can she keep a straight face and wear them?- and her abominable, troublemaking mother or taking the children to see a Saturday matinee for an afternoon's flight of fantasy to see Peter Pan. Oh no, nothing like that! It's like walking into the parlor and seeing blood dripped across a cream-colored carpet in a trail lead straight to a torn and bloody corpse. A most unexpected sight when all you're expecting is the calm and mundane, orderly ordinary. You've come to have tea after all, not to scream and fall fainting over corpse."
The book is told from Florence "Florie" Marbrick's point of view and tells her take of life with Jack the Ripper or James Maybrick. Following a hasty marriage, Florie joins Jack at his family home, Battlecrease House, and she slowly begins to uncover James' secret life as her life starts to unravel.
Florence Maybrick
James Maybrick
The lavish Battlecrease House
If you love historical novels at all, and especially if you like a slice of horror thrown in, then you need to pick up a copy of this book. Purdy immediately pulls the reader into Florie's world and elaborately describes life in Victorian England. I am already 150 pages in and am wondering what Florie is going to discover next. I can't wait to hand out candy Halloween night and then immerse myself back into this world!
Happy Halloween everyone!