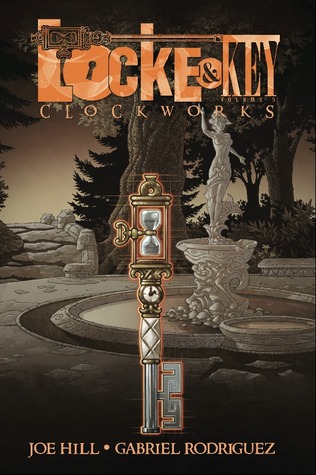 TITLE:
Locke & Key Vol. 5 - Clockworks
AUTHOR:
Joe Hill & Gabriel Rodriquez
PUBLISHER:
IDW Publishing
PUBLISHING DATE:
June 26, 2012
FROM GOODREADS:
Colonel Adam Crais's minutemen are literally trapped between a rock and a hard place; in the first days of the Revolutionary War, they find themselves hiding beneath 120 feet of New England stone, with a full regiment of redcoats waiting for them in the daylight... and a door into hell in the cavern below. The black door is open, and it's up to a 16-year-old smith named Ben Locke to find a way to close it. The biggest mysteries of the Locke & Key series are resolved as Clockworks opens, not with a bang, but with the thunderous crash of English cannons.
MY THOUGHTS:
I think this is my favorite volume yet. As usual, the artwork is great and totally fits with the ambiance of the story. While I felt this series started out strong, books 3 and 4 left me wanting a little something more. However, this volume delivered. Perhaps it is because Clockworks finally gives the reader a chance to see the history of the magnificent manor and learn how this crazy, messed up saga came to be. I can't wait to see how everything concludes!
RATING: 5 PAWS