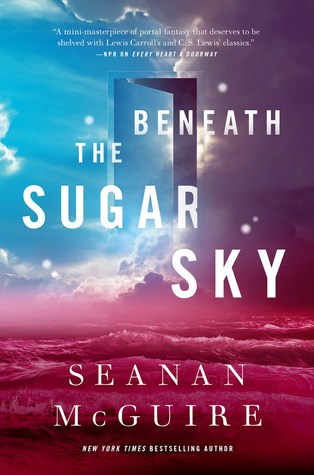 TITLE:
Beneath the Sugar Sky (Wayward Children #3)
AUTHOR:
Seanan McGuire
PUBLISHER:
Tor.com
PUBLISHING DATE:
January 9, 2018
FROM GOODREADS:
Beneath the Sugar Sky
returns to Eleanor West's Home for Wayward Children. At this magical boarding school, children who have experienced fantasy adventures are reintroduced to the "real" world.
Sumi died years before her prophesied daughter Rini could be born. Rini was born anyway, and now she's trying to bring her mother back from a world without magic.
MY THOUGHTS: I love this series. I have devoured each book and immediately wanted the next. In fact, I preordered this and started it the same day it downloaded on my Kindle despite the fact that numerous books were ahead of it. Each previous book has been a 5/5 read for me and this one was about my favorite character, Sumi, so it was inevitable that I would love it. Well...stranger things have happened.
As I mentioned, "Beneath the Sugar Sky" follows Rini, Sumi's daughter, and her quest to save her mother so she can eventually be born. Sound confusing? Well, this is the land of the illogical. We also get some old familiar characters and some new ones as well. I like Nadya and her turtle fascination and the introduction of Cora, the lost mermaid, was a great addition to the cast. Even Rini wasn't too unbearable but the world of Confection? I found like I was lost in a cross between Alice in Wonderland, I Hate Fairyland and Willie Wonka. And I am one of the few individuals who doesn't like Alice in Wonderland.
I found the land of Confection odd and confusing and without spoiling anything, the way they attempt to save Sumi - huh? Just huh.
I will say that I quickly immersed myself in McGuire's writing which is both beautiful and magical. She has a way of pulling me into her novels which I really can't explain. And the cover of this book is truly amazing and perhaps my favorite of all three. I will continue to devour McGuire's work - both new and old. In addition, I hope this isn't the last we've seen of the Wayward Children though I've heard mention this is the last book in the series.
My rating for this one pains me. However, if you love the series, you just have to pick it up.



CHALLENGE: This will count for #3 on the Swords and Stars Challenge - read a SFF novella.