This month Stormi and I had a chance to buddy read one of our favorite series. Seems both of us are in love with the Veronica Speedwell series so it was a natural choice for us.
Once you read my thoughts, make sure you hop over to Stormi's @
Books, Movies, Reviews Oh My!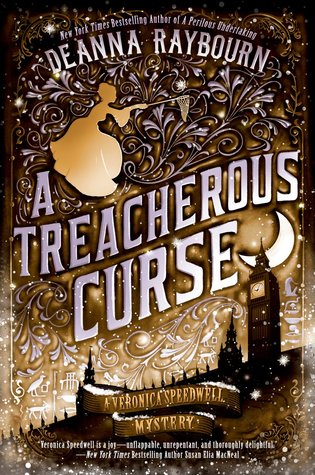 TITLE: A Treacherous Curse (Veronica Speedwell #3)
AUTHOR: Deanna Raybourn
PUBLISHER: Berkley
PUBLISHING DATE: January 16, 2018
FROM GOODREADS: London, 1888.
As colorful and unfettered as the butterflies she collects, Victorian adventuress Veronica Speedwell can't resist the allure of an exotic mystery—particularly one involving her enigmatic colleague, Stoker. His former expedition partner has vanished from an archaeological dig with a priceless diadem unearthed from the newly discovered tomb of an Egyptian princess. This disappearance is just the latest in a string of unfortunate events that have plagued the controversial expedition, and rumors abound that the curse of the vengeful princess has been unleashed as the shadowy figure of Anubis himself stalks the streets of London.
But the perils of an ancient curse are not the only challenges Veronica must face as sordid details and malevolent enemies emerge from Stoker's past. Caught in a tangle of conspiracies and threats—and thrust into the public eye by an enterprising new foe—Veronica must separate facts from fantasy to unravel a web of duplicity that threatens to cost Stoker everything. . . .
MY THOUGHTS:
Words really can't adequately sum up how much I love this series. In fact, Raybourn cannot produce these books quickly enough to keep me happy. Once again Veronica and Stoker find themselves in the middle of a mystery, but this one comes closer to home.
Mr. and Mrs. Tiverton were on an archaeological dig in Egypt when they discover the sarcophagus of an ancient Egyptian Princess. Shortly afterwards, a mystical Anubis appears and people start to die or go missing. In fact, one of the missing people turns out to be Stoker's old friend/nemesis who is also married to his ex-wife Caroline. Veronica, fearing Stoker will be erroneously connected to the disappearance, vows to helps Stoker figure out what is going on hopefully in time to save what reputation he has left. In doing so, she meets the infamous ex-wife - and she is despicable.
The mystery is this book was just as strong as the others and I liked the introduction of some new characters. However, there is really nothing remarkable about the Tivertons except Lord Tiverton's daughter - Figgy. Figgy is a joy and in my honest opinion, has to be a teenage Veronica in the making. And she is just as enamored with Stoker. But the best thing about this series remains Veronica and Stoker themselves. There are very few romantic overtones in any of the books but the sexual tension between the two main characters could be cut with a knife. Seriously, I wish they would just get together already. The banter back and forth between them is priceless and Veronica is so headstrong and blunt that I can't help but think in real life we'd be best of friends. She embarrasses Stoker every chance she gets, and it's hilarious.
This is a must-read for anyone who has already loved the series and if you haven't, you can grab all three and go on a marathon run and find out why so many other people are in love with Veronica and Stoker.
I also have to mention Nut. Nut is a new dog we are introduced to in this installment and he and Stoker's bulldog, Huxley, are destined to become best friends in the future.
I received this book from Netgalley and the publisher in exchange for an honest opinion.

RATING: 5 PAWS