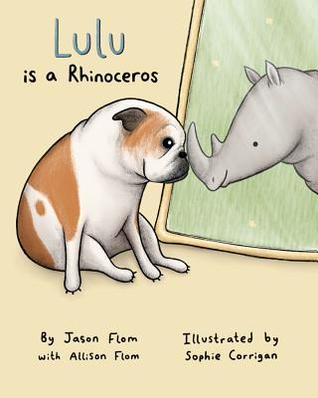 TITLE: Lulu is a Rhinoceros
AUTHORS: Jason and Allison Flom
ILLUSTRATOR: Sophie Corrigan
PUBLISHER: Wicked Cow Studios, LLC
PUBLISHING DATE: June 12, 2018
FROM GOODREADS:
Everyone thinks Lulu is a bulldog. It's what she looks like on the outside, so it
must
be what she is on the inside. But Lulu know she's not really a dog.
Lulu is a rhinoceros-that's what
she
sees when she looks in the mirror. When Lulu decides to tell the world who she really is, it begins a wild adventure.
MY THOUGHTS:
So anyone who knows me or follows my blog will immediately know why I had to pick up "Lulu is a Rhinoceros." The cover alone sealed the deal. In this children's book, Lulu, who is clearly a bulldog, goes on a quest to find her horn. Because see in her eyes, that's all she needs to prove to everyone she is clearly a rhinoceros.

The artwork in this book is super cute and while done in muted shades, I still think any young child would be attracted to it. Plus, Lulu is super cute and in the end, there is a wonderful moral to this story. If you have young children, definitely grab this book for them. Who knows, you might even enjoy it too!
RATING: 5 PAWS (because come on, what's cuter than a dog who thinks it's a rhino???)