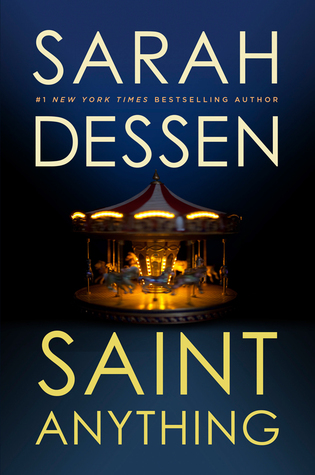 TITLE: Saint Anything
AUTHOR: Sara Dessen
PUBLISHER: Viking Juvenile
PUBLISHING DATE: May 5, 2015
FROM GOODREADS:
Peyton, Sydney's charismatic older brother, has always been the star of the family, receiving the lion's share of their parents' attention and—lately—concern. When Peyton's increasingly reckless behavior culminates in an accident, a drunk driving conviction, and a jail sentence, Sydney is cast adrift, searching for her place in the family and the world. When everyone else is so worried about Peyton, is she the only one concerned about the victim of the accident?

Enter the Chathams, a warm, chaotic family who run a pizza parlor, play bluegrass on weekends, and pitch in to care for their mother, who has multiple sclerosis. Here Sydney experiences unquestioning acceptance. And here she meets Mac, gentle, watchful, and protective, who makes Sydney feel seen, really seen, for the first time.

The uber-popular Sarah Dessen explores her signature themes of family, self-discovery, and change in her twelfth novel, sure to delight her legions of fans.
MY THOUGHTS:
I received an advanced copy of this book from Penguin First to Read, but that will not influence my review. I have never read a Sarah Dessen novel, but have heard people rave about her writing so when I saw this I had to request it right away. I will be honest and admit that the title and the carousel on the cover caught my immediate attention and after reading the synopsis, still couldn't tell what they had to do with the book. However, I can thankfully say that at the end of the book, it all made sense.

I almost gave this a 3 star rating, and after thinking, realized I might be doing so because this is not my normal read. After giving it much thought, I realized that the book was well written, the plot was engrossing and I did grow attached to several of the characters. This book addresses lots of teen issues, but not in an "in your face" manner. Without giving much away, I loved the ending as it sort of just continues and doesn't necessarily wrap everything up with a nice, neat bow - something that often drives me nuts.

The only thing that really bothered me about this novel is that there were a lot of characters which sometimes added to a jumbled down story line. Other than that, it was a pleasure to read. I am sure Dessen fans will devour this novel and rave about it and they rightfully should.
RATING: 4 PAWS
TITLE: Courtney Crumrin Vol 1: The Night Things
AUTHOR: Ted Naifeh
PUBLISHER: Oni Press
PUBLISHING DATE: April 11, 2012
FROM GOODREADS:
Fan-favorite and critical darling Courtney Crurmin is back in a series of newly remastered, full-color hardcover editions! Courtney''s parents have dragged her out to a high-to-do suburb to live with her creepy Great Uncle Aloysius in his spooky old house. She''s not only the new kid in school, but also discovers strange things lurking under her bed!
MY THOUGHTS:
I absolutely love this graphic novel. Vol. 1 contains the first 4 stories in Courtney's saga. After her parents overspend, they are forced to move into an eerie old mansion with Courtney's great uncle. Little does Courtney know that she is a witch and through interaction with her uncle, will learn what skills she possesses.

The art in the book is amazing. The panels are done in dark tones and I don't know how to describe it other than saying it is creepy and cute - what a combination, but it works. The tales involve goblins, witches, spells, mean kids, stupid parents and a talking cat named Boo.

This book is a definite recommendation for anyone who likes graphic novels and is interested in checking out a new, dark series of tales. I will definitely be picking up future books in this series.
RATING: 4 PAWS