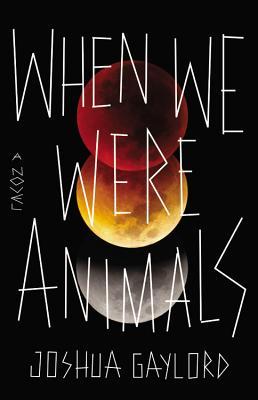 TITLE: When We Were Animals
AUTHOR: Joshua Gaylord
PUBLISHER: Mulholland Books
PUBLISHING DATE: April 21, 2015
FROM GOODREADS:
A small, quiet Midwestern town, which is unremarkable save for one fact: when the teenagers reach a certain age, they run wild.
When Lumen Fowler looks back on her childhood, she wouldn't have guessed she would become a kind suburban wife, a devoted mother. In fact, she never thought she would escape her small and peculiar hometown.
When We Were Animals
is Lumen's confessional: as a well-behaved and over-achieving teenager, she fell beneath the sway of her community's darkest, strangest secret. For one year, beginning at puberty, every resident "breaches" during the full moon. On these nights, adolescents run wild, destroying everything in their path.
Lumen resists. Promising her father she will never breach, she investigates the mystery of her community's traditions and the stories erased from the town record. But the more we learn about the town's past, the more we realize that Lumen's memories are harboring secrets of their own.
A gothic coming-of-age tale for modern times,
When We Were Animals
is a dark, provocative journey into the American heartland.
MY THOUGHTS:
First let me say I received a copy of this in exchange for an honest review. I have seen this book hyped on several blogs and various sites and basically couldn't wait to get to it. Having said that, that thought quickly turned in to I couldn't wait to get through with it. This book is a coming-of-age novel about Lumen. Lumen lives in a town where when teenagers reach puberty, they start a process called "breeching" which involves running around naked, hurting people and themselves, and having random sex for a year or so. This happens during the Moon cycles and last about 3 days a month. During this time, after dark, the rest of town basically locks themselves away at night. Lumen doesn't want to breech. She believes her mother, who is dead, never did and she wants to be just like her. In the end, the reader finds out how much they really are alike.

Now I am all for weird books. Every once in a while I want to read one here or there. But even though it should have, this book never really grabbed my attention. I was never really invested in any of the characters and spent half of the book wondering what Gaylord was thinking when he wrote this. However, I do believe the book deserves at least a 3 star rating even though I did not enjoy reading it. It was well written, and for some reason, even though I wanted to quit it, I cared enough to see where the story was headed. I would have enjoyed learning more about Lumen's adult life once she got out of this crazy town, but the reader only gets a glimpse of that world.

I don't really know who to recommend this book to so basically I will saw read at your own risk. I didn't absolutely hate it, but I would never read it again or purchase my own copy.