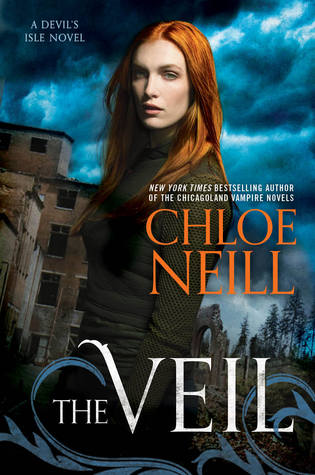 TITLE
: The Veil (Devil's Isle #1)
AUTHOR
: Chloe Neill
PUBLISHER
: NAL Trade
PUBLISHING DATE
: August 4, 2015
FROM GOODREADS
:
Seven years ago, the Veil that separates humanity from what lies beyond was torn apart, and New Orleans was engulfed in a supernatural war. Now, those with paranormal powers have been confined in a walled community that humans call the District. Those who live there call it Devil's Isle.

Claire Connolly is a good girl with a dangerous secret: she's a Sensitive, a human endowed with magic that seeped through the Veil. Claire knows that revealing her skills would mean being confined to Devil's Isle. Unfortunately, hiding her power has left her untrained and unfocused.

Liam Quinn knows from experience that magic makes monsters of the weak, and he has no time for a Sensitive with no control of her own strength. But when he sees Claire using her powers to save a human under attack—in full view of the French Quarter—Liam decides to bring her to Devil's Isle and the teacher she needs, even though getting her out of his way isn't the same as keeping her out of his head.

But when the Veil threatens to shatter completely, Claire and Liam must work together to stop it, or else New Orleans will burn…
MY THOUGHTS:
I started Chloe Neill's Chicagoland Vampire Series years ago and really enjoyed them a lot. However, like a lot of series, after it reached 5-6 books, I feel behind and now need to get caught up. So I was really excited to see she was releasing a new series so I would have the chance to once again stay on top of it if I liked it well enough - which I did.

Now I have to admit I loved Merit in the Chicagoland series. She was fiesty, snarky and many other things I love about a kick-butt heroine. Claire Connolly is no Merit, but that's ok, she doesn't have to be. Claire is a strong character in her own way. She is struggling to survive in a devastated New Orleans after the Veil split several years ago and divided the area between those with magic and those without.

I think one of the best things about this book is all of the side characters. I like Liam, but really want to learn more about his brother. I also thought a lot of great characters were introduced who reside in Devil's Isle. There was a lot of world building throughout the book, which is to be expected with an opening novel in a series, but there was plenty of action too. Overall, I can't wait to see where this world takes us.

On a personal note, another book featuring fairies which I didn't totally hate! Seems I am progressing.
RATING: 4 PAWS
COYER SCAVENGER HUNT #1: Read a book that is first in its series as indicated on Goodreads.