Stacking The Shelves is all about sharing the books you are adding to your shelves, may it be physical or virtual. This means you can include books you buy in physical store or online, books you borrow from friends or the library, review books, gifts and of course ebooks! The original meme was started over at
Tynga's Reviews
.
I picked up 2 books from the library this week which I had on reserve. I am in the middle of COYER, and have been trying to read my own books and arcs, but I had to grab these two when I saw they had came available:
Lumberjanes #1: Noelle Stevenson, Grace Ellis, Brooke A. Allen -
At Miss Qiunzilla Thiskwin Penniquiqul Thistle Crumpet's camp for hard-core lady-types, things are not what they seem. Three-eyed foxes. Secret caves. Anagrams. Luckily, Jo, April, Mal, Molly, and Ripley are five rad, butt-kicking best pals determined to have an awesome summer together... And they're not gonna let a magical quest or an array of supernatural critters get in their way! The mystery keeps getting bigger, and it all begins here.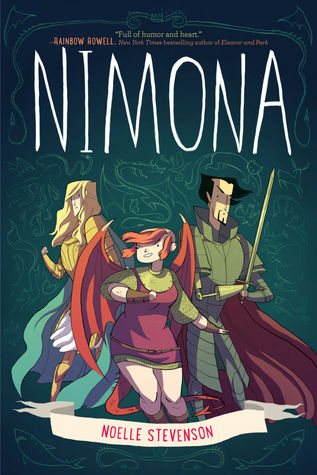 Nimona: Noelle Stevenson -
Nemeses! Dragons! Science! Symbolism! All these and more await in this brilliantly subversive, sharply irreverent epic from Noelle Stevenson. Featuring an exclusive epilogue not seen in the web comic, along with bonus conceptual sketches and revised pages throughout, this gorgeous full-color graphic novel is perfect for the legions of fans of the web comic and is sure to win Noelle many new ones.
From Edelweiss I received:
The Subterranean Season: Dale Bailey. This book has been described as a "d
arkly comic novel that explores the horrific possibilities of wish fulfillment." Sounds good enough to me. Plus the author is from West Virginia which doesn't happen that often.
From Netgalley I received:
I Will Marry George Clooney (by Christmas)
: Tracy Bloom. This sounds like an funny romantic read and sometimes I just need a book like that. It is already out.
Lost Princess (Kingdom of Cymmera #1)
: Dani-Lyn Alexander. This comes out October 13, 2015 from Kensington Books and Lyrical Press.
Rainy Day Sisters
: Kate Hewitt. See the dog on the cover? Of course I had to have it. This one came out August 4, 2015 from Penguin.
And finally I received a request from Entangled Teen to read and review the following:
The Summer Marked (The Winter People #2)
: Rebekah L. Purdy. This comes out September 22, 2015. I am really liking that cover.
Thanks to Netgalley, Edelweiss and Entangled Teen for all the books this week. Have you read any of these and what landed on your stack this week?