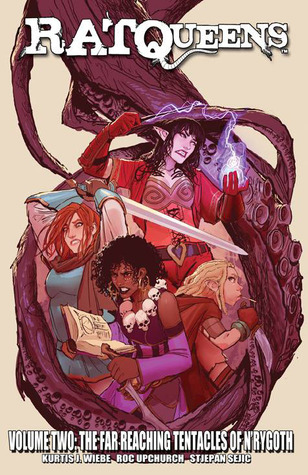 TITLE:
Rat Queens Vol. 2 The Far Reaching Tentacles of N'rygoth
AUTHOR:
Kurtis J. Wiebe, Roc Upchurch, StjepanSejic, Ed Brisson
PUBLISHER:
Image Comics
PUBLISHING DATE:
May 6, 2015
FROM GOODREADS:
This booze-soaked second volume of RAT QUEENS reveals a growing menace within the very walls of Palisade. And while Dee may have run from her past, the bloated, blood-feasting sky god N'rygoth never really lets his children stray too far.

Collects RAT QUEENS #6-10
MY THOUGHTS:
I really enjoy Rat Queens and this was a great graphic novel to read in one setting. While the Queens certainly aren't for the faint of heart, I really love their foul mouths and lewd ways. In this installment, a new terror has returned to Palisades with plans to destroy it and it's up to the Rat Queens to figure out what is going on and stop it. This book does a great job of weaving in some of the Queen's backstories and it was nice to finally learn more about them. As usual, the artwork is awesome and colorful. I especially enjoyed the portrayal of the God N'rygoth - he's awesome and even has tentacles. If you love this series, this installment shouldn't disappoint you and I'm so glad I already have Vol. 3 waiting so I can continue on.
RATING: 4 PAWS