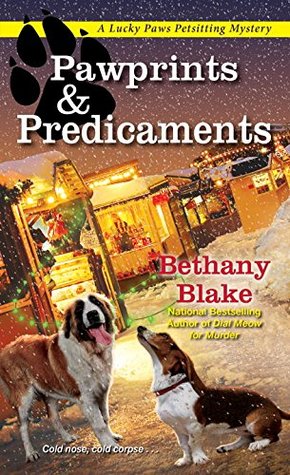 TITLE: Pawprints & Predicaments (A Lucky Paws Petsitting Mystery #1)
AUTHOR: Bethany Blake
PUBLISHER: Kensington
PUBLISHING DATE: February 27, 2018
FROM GOODREADS:
The Tail Waggin' Winterfest is the highlight of the season in the famously pet-friendly Pocono Mountains town of Sylvan Creek. But despite attractions like an ice sculpture display, a dogsled race, and gourmet hot chocolate, Daphne Templeton finds herself annoyed by TV producer Lauren Savidge, who's filming the festivities. She's critical, controlling, and as chilly as the January air. Daphne would like to tell her to go jump in a lake--and as a matter of fact, that's exactly what they're both going to do . . .
It's the first-ever polar bear plunge in Lake Wallapawakee, and Daphne and Lauren are among the eighty or so people who charge into the frigid water to raise funds for animals in need. Daphne makes it back to shore--with the help of a mysterious St. Bernard--but Lauren is dragged out stone cold dead. Now, with her trusty basset hound Socrates at her side, Daphne intends to assist Detective Jonathan Black in his investigation--whether he wants her to or not . .
MY THOUGHTS: So once again we are thrown into the pet-loving town of Sylvan Creek and if there was ever a place for me and the boys to take up a new residence, it would definitely be the place. This town LOVES its pets and has all kinds of events and businesses which cater to them. "Pawprints & Predicaments" picks up right after the Halloween Pet Parade and at the very beginning of the Tail Waggin' Winterfest. However, a big-time TV producer is still working on her new series but before long, it's clear that she isn't going to make it to the end of the production.
Once again all of my favorite characters are front and center. Daphne, the MC and owner of the wonderful Socrates and now Mr. Tinkleston, her best friend Moxie, who now has a new best pal of her own in her pet rat Sebastian, and Detective Black and his newly adopted crew, Axil and Artie. Also, Daphne has been convinced to take in a newly found St. Bernard named "Bernie" until the town can figure out if he is linked with Lauren's death.
I pretty much loved everything about this book - the small town feel, the pets, the quirky townspeople, and as mentioned, some very colorful characters. However, I did struggle with one aspect - a love triangle (DA DA DUM!). So let me start by saying I thought for a brief moment I would give this latest installment 4/5 instead of my final decision of 5/5 because love triangles really bother me. BUT, this one is a tad different in that it's not technically a triangle. First of all, Daphne is not sure of her feelings for one individual and secondly, Detective Black, whom I am fully and completely cheering for, has not really made his intentions clear. So I'm calling it a non-triangle at this time and giving it the coveted 5/5. I will just be leery going into the next one and hope this aspect resolves itself.
If you enjoyed the first two books, then don't hesitate to pick this one up. I'm sure you'll love it as much as I did.
I received this book from Netgalley and the publisher in exchange for an honest review.
BOOKER T'S THOUGHTS: Socrates is one of the best Bassets I've met in a long time. Seems Mom must have a thing for them because first there was Elvis and now there is Socrates. However, they are VERY different dogs. Socrates is smart and intellectual and I bet he reads a lot, just like Mom. He also tolerates his animal siblings and boy, can I understand that. So why are you still reading my thoughts - go check him out!
RATING: 5 PAWS