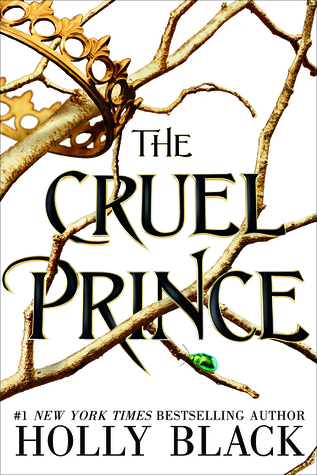 TITLE: The Cruel Prince (The Folk of the Air #1)
AUTHOR: Holly Black
PUBLISHER: Little Brown Books for Young Readers
PUBLISHING DATE: January 2, 2018
FROM GOODREADS:
Of course I want to be like them. They're beautiful as blades forged in some divine fire. They will live forever.

And Cardan is even more beautiful than the rest. I hate him more than all the others. I hate him so much that sometimes when I look at him, I can hardly breathe.

Jude was seven years old when her parents were murdered and she and her two sisters were stolen away to live in the treacherous High Court of Faerie. Ten years later, Jude wants nothing more than to belong there, despite her mortality. But many of the fey despise humans. Especially Prince Cardan, the youngest and wickedest son of the High King.

To win a place at the Court, she must defy him–and face the consequences.

In doing so, she becomes embroiled in palace intrigues and deceptions, discovering her own capacity for bloodshed. But as civil war threatens to drown the Courts of Faerie in violence, Jude will need to risk her life in a dangerous alliance to save her sisters, and Faerie itself.
MY THOUGHTS: So ever since this book has been released, most people have been raving about it and telling anyone who would listen to pick it up and read it NOW! I should have taken that as my first clue. See, me and over-hyped books have a tenuous relationship at best. In fact, The Chalk Man and Final Girls quickly come to mind. And I'll be honest, during the first 75-100 pages of this book, I came about as close to calling it a DNF as I could, but did manage to press on. In the end, I am glad I finished "The Cruel Prince" but it STILL isn't a book I find myself loving.
"The Cruel Prince" begins the story of three sisters who were taken to live in the fairy world by Madoc, who also happens to be the individual who killed their parents. Now these three sisters are almost adults and are trying to figure out where they fit. Vivi, who is actually the biological daughter of Madoc, wants nothing to do with the fairy world, Jude wants nothing more than to fit into the world, and Taryn? Let's just say Taryn is probably the most messed up at all and in my opinion is in need of years and years of counseling.
So there is a changing of the guard scheduled for the Fairy Court and Jude sees this as an opportunity to finally prove her worth and fit in. Never mind that she is constantly bullied by almost all the others in fairy land merely for being a human. And never mind that she makes some pretty dumb decisions along the way.
There is a lot of political intrigue and happenings in "The Cruel Prince" but unfortunately, most of it happens in the last 1/3 of the book. There is also some romance but it's so minuscule that it really isn't there at all. I actually thought Vivi was the more interesting character and sadly, she wasn't in the book very much. I hope this is remedied in future installments. There are also some interesting side characters, especially some of the fae creatures.
Overall, I wouldn't tell a person they shouldn't read this book. I'm a firm believer of reading what you want and forming your own opinions. In addition, I am sure I will pick up the next book in the series when it releases because I am curious what will happen next. However, this was basically just a middle of the line read for me.
RATING: 3 PAWS




CHALLENGES: Library Love, Swords and Stars (book with a map)