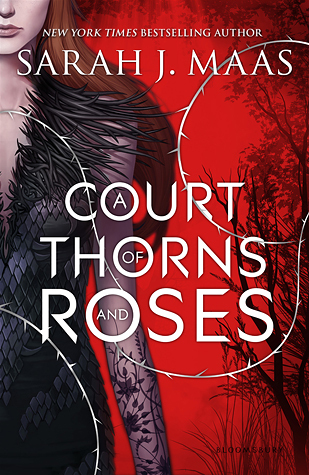 TITLE: A Court of Thorns and Roses
AUTHOR: Sarah J. Maas
PUBLISHER: Bloomsbury Children's
PUBLISHED DATE: May 5, 2015 (out now)
FROM GOODREADS:
When nineteen-year-old huntress Feyre kills a wolf in the woods, a beast-like creature arrives to demand retribution for it. Dragged to a treacherous magical land she only knows about from legends, Feyre discovers that her captor is not an animal, but Tamlin—one of the lethal, immortal faeries who once ruled their world.

As she dwells on his estate, her feelings for Tamlin transform from icy hostility into a fiery passion that burns through every lie and warning she's been told about the beautiful, dangerous world of the Fae. But an ancient, wicked shadow grows over the faerie lands, and Feyre must find a way to stop it . . . or doom Tamlin—and his world—forever.

Perfect for fans of Kristin Cashore and George R. R. Martin, this first book in a sexy and action-packed new series is impossible to put down!
MY THOUGHTS:
Beauty and the Beast is probably one of my most favorite fairy tales, so I was thrilled to learn this was a retelling. Having not read a Maas book before, I also saw this as a perfect way to see what at least half of the book-loving world is raving about. Although I ended up giving this book 4 stars, at least half of it looked like it would be lucky to earn 3.

I really enjoyed Maas' writing. Half-way through the book she made me completely love a character I couldn't stand in the beginning and I never saw that coming. I also really enjoyed the way Tamlin and Lucien's history was revealed slowly throughout the novel. I immediately "feel" for this "beast" and couldn't get enough of him. I think this book is a great setup for additional installments and it goes down as probably one of the few fairy books I have actually enjoyed (usually fairies and me have a hate/hate relationship).

Now on to what bothered me about ACOTAR. The main dislike is Feyre. While she did grow on me some, at least half of the book I found myself feeling the same way I did about Bella Swann. That isn't to say Maas has written Feyre anything like Bella, and thank the Gods that she is more tolerable than Bella, but Feyre was really boring...and stupid...and naive...and I wanted to slap her. Ok, you get the point. I did like her more toward the end of the book and her character was salvaged somewhat. The other main issue I have is since the book is told from Feyre's point of view, we miss a big chunk of what happens to Tamlin and Lucien. Since I love them the most, it's a part I really missed.

Overall, I would recommend this book, but don't feel I really need to because everyone has heard of it. Would I say it is overhyped? Perhaps, but unlike some overhyped books, I am not sorry I read it. I am glad to now understand what so many people see in Maas' books. I will definitely read more of her in the future and if I ever had the chance, would beg her to give me a novel with Nesta and Rhysland.
RATING: 4 PAWS