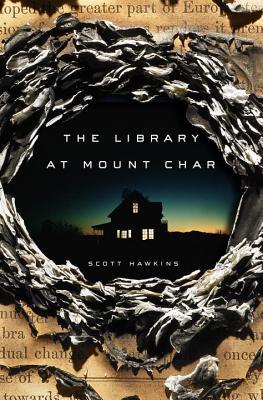 TITLE: The Library at Mount Char
AUTHOR: Scott Hawkins
PUBLISHER: Crown Publishing
PUBLISHING DATE: June 16, 2015
FROM GOODREADS:
Neil Gaiman meets Joe Hill in this astonishingly original, terrifying, and darkly funny contemporary fantasy.

Carolyn's not so different from the other human beings around her. She's sure of it. She likes guacamole and cigarettes and steak. She knows how to use a phone. She even remembers what clothes are for.

After all, she was a normal American herself, once.

That was a long time ago, of course--before the time she calls "adoption day," when she and a dozen other children found themselves being raised by a man they learned to call Father.

Father could do strange things. He could call light from darkness. Sometimes he raised the dead. And when he was disobeyed, the consequences were terrible.

In the years since Father took her in, Carolyn hasn't gotten out much. Instead, she and her adopted siblings have been raised according to Father's ancient Pelapi customs. They've studied the books in his library and learned some of the secrets behind his equally ancient power.

Sometimes, they've wondered if their cruel tutor might secretly be God.

Now, Father is missing. And if God truly is dead, the only thing that matters is who will inherit his library--and with it, power over all of creation.

As Carolyn gathers the tools she needs for the battle to come, fierce competitors for this prize align against her.

But Carolyn can win. She's sure of it. What she doesn't realize is that her victory may come at an unacceptable price--because in becoming a God, she's forgotten a great deal about being human.
MY THOUGHTS:
This book was seriously messed up...but in a good way. I wasn't quite sure what to expect when I started The Library at Mount Char, and having finished it, I am not totally sure I understood everything I read. That being said though, I found the book to be enjoyable and am very glad I picked it up and gave it a go. Mount Char tells the story of Father, a larger than life individual who has been around for thousands of years. Father adopts 12 young children one summer after their parents die, and proceeds to teach them his knowledge. Each child has their own "catalog" to learn and are not allowed to venture into each others area of knowledge. These catalogs consist of speaking all the languages of the world, speaking the languages of animals, the catalog of murder techniques and medicine to name a few. Father is missing in the beginning of the book, and as it goes one, the reader starts to see how terrifying Father is and why the world might be a better place without him.

I liked several aspects of this book. First of all, I felt an instant connection to Steve and Erwin, side characters in the book, and came to like Carolyn, the main protagonist, after some time. I also enjoyed Dresden and Naga, two lions who are significantly important to the book. Hawkins has a way of finding the good in even the worst of characters, and by the end, I managed to see some redeeming qualities in Father - just not enough to ever make him likable. Now there are some truly some awful mean sadistic characters in this book, but they are well written and despite their faults, they are a necessary evil. The plot of the book was refreshing and unlike anything else I have read this year. I feel that Hawkins is definitely one of those authors whom after reading the last page, I start wondering what exactly goes on in that had if his. I bet it certainly is never dull in his world. I have seen this book summed up as a cross between Gaiman and Joe Hill and I can understand the comparison.

Now on to what bothered me about the book. The first 80 pages or so were confusing and somewhat dull. Although I rarely DNF a book, it did cross my mind. However, it picked up after that point and I believe people need to be advised to continue on as it only gets better as it progresses. Secondly, there is a lot of ugliness and death in this book...lots of death...gruesome and horrific death - I think you get the point. There is a lot of animal deaths in this book as well which I hate and turns me off, but I will say that for the most part, this aspect was crucial to the plot and I do not believe it was done lightly by Hawkins.

Overall, I am glad I gave this book a chance. I know this review sort of jumped all over the place, but in a way, so does The Library at Mount Char. This book is hard to put into words. I don't even really know who I would recommend this book to as it is somewhat fantasy, somewhat horror, and a tad bit of a love story. The Library at Mount Char shows the reader how scary the world can be, but made me grateful that things haven't gotten as bad as it could yet.
Disclaimer: I received a physical ARC from "Blogging for Books" which did not in any way reflect my opinion and review of this book.
RATING: 4 PAWS
COYER SCAVENGER HUNT #14 - Read any type of horror novel. (classified as horror on Goodreads as well as fantasy/contemporary)