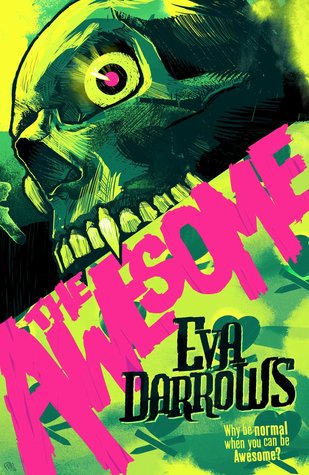 TITLE: The Awesome
AUTHOR: Eva Darrows
PUBLISHER: Ravenstone
PUBLISHING DATE: May 26, 2015
FROM GOODREADS:
Seventeen-year-old Maggie Cunningham is tough, smart, and sassy. She's also not like other girls her age, but then, who would be when the family business is monster hunting? Combat boots, ratty hooded sweatshirts, and hair worn short so nothing with claws can get a grip, Maggie's concerns in life slant more toward survival than fashion or boys. Which presents a problem when Maggie's mother informs Maggie that she can't get her journeyman's license for hunting until she loses her virginity.

Something about virgin blood turning vampires into pointy rage monsters. Blood and gore and insides being on the outside and all that.

Maggie's battled ghosts and goblins and her fair share of house brownies, but finding herself a boy - fitting in with her peers - proves a much more daunting task than any monster hunt. Did you know normal girls don't stuff their bras with holy water balloons? Nor do they carry wooden stakes in their waistbands. And they care about things like "matching" and "footwear." Of course, they also can't clean a gun blindfolded, shoot a crossbow, or exorcise ghosts from a house. Which means they're lame and Maggie's not. Because Maggie's awesome. The Awesome, in fact. Just ask her. She'd be more than happy to tell you.

After she finds herself a date.
MY THOUGHTS:
I almost hated to give this book 5 stars because it wasn't some deep, thought-provoking book, there was no hidden moral to the story, and it was full of dysfunction. But damn, this book was fun! I plowed through this book with a determined fury to get to the end, and then when it was over, I wanted more. Maggie lives with her mother and together, they hunt monsters for a living. Since she is only 17, Maggie is still just an apprentice and one major part of the plot is that she has to lose her virginity before she can hunt vampires.

This book made me laugh in so any places. Maggie is your typical smart-assed teen and readers will either love her or hate her. She and her mother have a unique relationship and while I normally frown against parents who are their children's best friends, it really works with this book. Maggie is also a bad-ass in her own right, hunting and killing creatures way above her skill level.

The side characters in this book include a zombie girl the family basically adopts, Maggie's new potential first boyfriend (who is shy, smart and doesn't mind that Maggie kills for a living and isn't stick thin), and her mother's vampire boyfriend (which creates all kinds of moral dilemmas).

If you love snarky characters and crazy story lines, then run, don't walk, to pick up this book. There was little I didn't enjoy about it.

Disclaimer: I received this arc from Netgalley in exchange for an honest review.
MY RATING: 5 PAWS