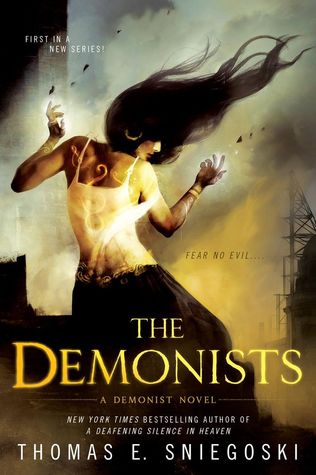 TITLE:
The Demonists (Demonist #1)
AUTHOR:
Thomas E. Sniegoski
PUBLISHER:
Roc
PUBLISHING DATE:
April 5, 2016
FROM GOODREADS:
From the New York Times bestselling author of the Fallen series and the Remy Chandler series, a new dark fantasy series filled with demons, exorcisms, and the fight against the worst that hell has to offer...

There is more to our world than meets the eye—darker things, crueler things. Exorcist John Fogg and his wife, psychic medium Theodora Knight, know what lurks in the shadows. But even they're not prepared for the worst Hell has to offer...

It was supposed to be a simple exorcism, a publicity stunt to firmly establish John and Theodora's thriving paranormal investigation empire in the public eye. But something went wrong, leading to an on-air massacre that unleashed a malicious host of demons and left Theodora catatonic, possessed by countless spirits.

John sets out on a desperate quest to find a cure for his wife, but his obsession brings him face-to-face with an even more terrifying problem: Theodora's possession is only one piece of a deadly plot that is threatening the entire world. Because an ancient evil is about to make Earth its battlefield—and without John and Theodora's intervention, there is no chance for salvation...
MY THOUGHTS:
This is one of those books where you really wish Goodreads would fix their rating system and you could give 1/2 stars. However, since they probably never will, and since I loved this book so damn much, I am rounding up to 5 and to heck with it! There are so many things I love about this book that I really don't know where to start. It was just the book I needed to quench my urban fantasy craving (or maybe fuel it, but that remains to be seen).

The Demonists follows John Fogg and his wife, Theo. They have combined their skills in the paranormal for years and star in a famous television ghost hunter series. While many of their investigations turn out to be nothing more than raccoons in the attic, they both know evil does exist. One Halloween night, an investigation takes a wrong turn and Theo ends up absorbing hundreds of demons into her body. The remainder of the book follows John as he tries to save his wife, Theo, as she learns to manage the evil entities which have taken up residence inside her, and one of the scariest villains I have met in a long time - The Teacher. It also introduces the reader to the secret order of The Demonists, who are charged with protecting the Earth from the evils many doubt and rarely witness.

I really don't scare easy but this book has come the closest to scaring me as anything I have read in years. It really plays on my fear of the classic movie "The Exorcist" and at times caused me to have flashbacks of the horrifying scenes between Regan and Father Karras. For some reason, I have always found possession to be one of the most terrifying elements in horror and it is the main focus of The Demonists. I cannot stress enough that the evil in this book is something to be feared. The Teacher is trying to resurrect Damakus, a long forgotten demon who wants to rule the world and send it plummeting into death and chaos, but in my opinion, The Teacher is much more scarier than the demon he wishes to serve (at least in this installment to this new series). This certainly isn't a book for the faint of heart and if reading about writhing maggots, gut-wrenching pain and torture (both physical and mental) and ugly, horrific-looking demons isn't your thing, you might want to skip this book. But if you love dark urban fantasy and horror, run out and buy a copy as fast as you can.

This novel is the perfect set up to a new series. Several questions remain unanswered at the end and Sniegoski does a fantastic job of making you wish you had waited until all the books in the series were released so you could binge read them and not have to wait months and years to find out where the characters are headed next. While it is true John and Theo are a couple truly in love, there is no romance in this book and their relationship is basically seen from the perspective of what will you do to help the one you love and are you are willing to risk you life, and the lives of many others, in order to save them. I also have to mention Nana, because she is clearly one of my favorite characters, even if she doesn't appear a whole lot.

I really can't say enough good things about this book. I hope anyone who likes the genres I mentioned will at least give it a chance. I will be rushing off this week to see what other books by Sniegoski I can collect as I can see him quickly becoming one of my favorite horror writers.
I received this book from Netgalley and the publisher in exchange for an honest review.
MY RATING: 5 PAWS