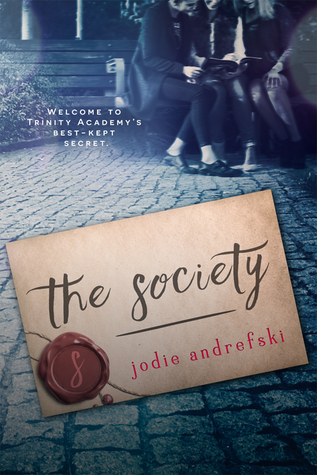 TITLE:
The Society
AUTHOR:
Jodie Andrefski
PUBLISHER:
Entangled Teen
PUBLISHING DATE:
May 3, 2016
FROM GOODREADS:
Welcome to Trinity Academy's best-kept secret.

The Society.

You've been handpicked by the elite of the elite to become a member. But first you'll have to prove your worth by making it through Hell Week.

Do you have what it takes?

It's time to find out.

Samantha Evans knows she'd never get an invite to rush the Society—not after her dad went to jail for insider trading. But after years of relentless bullying at the hands of the Society's queen bee, Jessica, she's ready to take down Jessica and the Society one peg at a time from the inside out.

All it'll take is a bit of computer hacking, a few fake invitations, some eager rushees…and Sam will get her revenge.

Let the games begin.
MY THOUGHTS:
The Society is one of those books where you realize how evil humans beings can really be, even outside the context of a horror novel. Sam Evans' father is sentenced to prison for insider-trading the summer before she starts high school. Her best friend, Jessica, plays a huge role in the whole disaster and things between her and Sam are never the same. The book starts with Sam's senior year of high school and the reader basically learns that Jessica, Queen Bee of the elite high school they both attend, has made it her mission to bully, tease and make Sam's life miserable for as long as they are in school together. Eventually Sam reaches her breaking point and exacts revenge on Jessica using a secret "society" at the high school which requires strict screening and initiations for all invited to join.

While I am somewhat long removed from high school, and I may not have really connected with the characters as much as many will, I still found "The Society" to be a worthwhile read. Bullying was not a hot topic when I attended school, but being somewhat of a geek, I was made fun of from time to time and could relate to Sam on a smaller scale. While Jessica is clearly a monster in this book, I was amazed at how far Sam was willing to go to reap her revenge. I found the fact that she was willing to sacrifice others in the school who had little or nothing to do with her situation and battle with Jessica slightly self-centered and inappropriate. Yet, it still goes to speak at how horrible Sam's life has truly been and the toll bullying can take on a person.

I enjoyed Sam's relationship with her Aunt, who is now raising her, and think it is important to the book as it shows a softer, more caring side of Sam. This relationship also helps Sam develop an appreciation for what is really important in life as the book progresses.

I believe this book addresses some tough issues facing some teens/young adults today. If someone has a child who is has been touched by bullying in anyway - victim, perpetrator, or witness, then I think this would be a good tale for them to share. I enjoyed Andrefski's writing and will be keeping an eye open for future works.

Note: I was provided a copy of "The Society" by Entangled Teen and the author in exchange for an honest review.
RATING: 4 PAWS