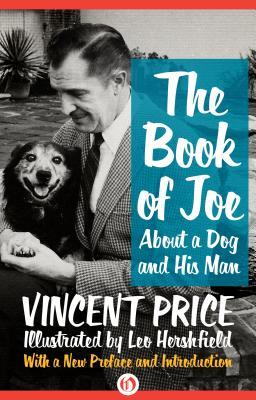 TITLE:
The Book of Joe: About a Dog and His Man
AUTHOR:
Vincent Price
PUBLISHER:
Open Road Media
PUBLISHING DATE:
April 26, 2016
FROM GOODREADS:
In the tradition of classic dog stories like Anna Quindlen s "Good Dog. Stay. "and J. R. Ackerley s "My Dog Tulip," actor Vincent Price shares the heartwarming tale of his fourteen-year love affair with his mischievous yet endearing mutt Joe Actor Vincent Price won acclaim for his performances as a menacing villain in dozens of macabre horror films, such as "House of Wax." Less well known, though, is Price s lifelong love of animals, especially his fourteen-year-old mutt, Joe. From his wife s passion for poodles to film set encounters with all types of creatures, including goats, apes, and camels, Price s life was full of furry, four-legged friends. But it was Joe who truly captured his heart. Intelligent, courageous, and devoted to his owner, Joe was a special dog with a personality all his own. In this touching and light-hearted memoir, with a new introduction by Bill Hader and a preface by Vincent Price s daughter, Victoria, Joe gets involved in all sorts of hijinks: At one point, the actor has to defend his canine companion in court! Despite some bad habits, like stealing guests shoes, pursuing lustful trysts with neighboring dogs, or belly flopping into the garden fishpond crushing more than a few fish Price loves his "Joselito," whose unconditional loyalty more than makes up for his minor indiscretions. And when Price s elderly cousin who comes to stay with him is stricken with cancer, Joe never leaves her side. Price s tender and witty recollections of his time spent with Joe will bring joy to any animal lover s heart. The Vincent Price Family Legacy will donate a portion of the proceeds from this book to the Fund for Animals. "
MY THOUGHTS:
I remember being a young child and my grandmother loving to watch Vincent Price on The Hollywood Squares when I would spend summers with her. Of course, I know him best as the creepy voice on Michael Jackson's Thriller single. However, hearing that voice as a teen was enough to interest me into catching some of his horror movies, for which he is very well known and of which many are classics. I always considered him a classy, although sometimes terrifying individual, so imagine how thrilled I was to see this book (a reissue with a forward by one of his children) where he shared his love of dogs and other furry creatures.

"The Book of Joe" primarily tells of how Price's life was touched by animals, specifically his beloved Joe. Price explains that growing up and all through adulthood, pets were an important part of his life and his caring and adoration comes through in his stories. Joe was 100% mutt but Price felt that made him all the more dog, if that makes sense. And Joe definitely was independent, stubborn and more than anything, lovable. Joe came into Price's life before his second wife Mary, and the transition for her was not always a smooth one. The stories weaved between the cover of this book make for some very interesting tales. I especially love how Joe used to often run the canyon in California where the family lived and one day, they invited their neighbors, who had only lived in the area for 6 months, to dinner. During it, Joe strolled in and the neighbors exclaimed "Brownie, what are you doing here?" Apparently they believed they had taken in the homeless dog and unbeknownst to Price and his wife, Joe had a liter of pups down the block.

If you love dogs and even if like me, you have ever been fascinated with Price and that wonderful, creepy voice of his, then pick up this book and give it a chance. Although there are some autobiographical elements, Price stays true to the novel being a tale about the love of his life, Joe. So if you are looking for something about Price himself, then look elsewhere. But if you want a great take on a relationship between a dog and his man, then this is the book for you.

FAVORITE QUOTE: "Anyone who won't admit that he speaks to his animal fried in special terms of endearment is a liar and a coward. This is the voice of love that needs and gets no answer, and therefore it needs no explanation."

I received this book from Open Road Media and Netgalley in exchange for an honest review.

RATING: 4 PAWS
BOOKER T'S THOUGHTS: Joe was an awesome dog! He had all kinds of ladies and often went out with them for days on end - my hero! Joe was lucky enough to own a wonderful man (much like me) and this book made Mom chuckle to herself, so that can't be all bad. Joe had much more freedom than I did, but I guess in the 60's, life wasn't so scary for my 4-legged friends. I give Joe 5 PAWS!!!!!!!