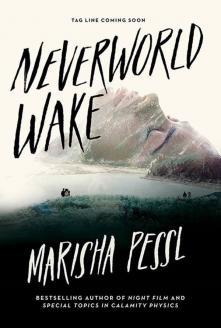 TITLE: Neverworld Wake
AUTHOR: Marisha Pessl
PUBLISHER: Delacorte Press
PUBLISHING DATE: June 5, 2018
FROM GOODREADS:
Once upon a time, back at Darrow-Harker School, Beatrice Hartley and her six best friends were the cool kids, the beautiful ones. Then the shocking death of Jim—their creative genius and Beatrice's boyfriend—changed everything.

One year after graduation, Beatrice is returning to Wincroft—the seaside estate where they spent so many nights sharing secrets, crushes, plans to change the world—hoping she'll get to the bottom of the dark questions gnawing at her about Jim's death. But as the night plays out in a haze of stilted jokes and unfathomable silence, Beatrice senses she's never going to know what really happened.

Then a mysterious man knocks on the door. Blithely, he announces the impossible: time for them has become stuck, snagged on a splinter that can only be removed if the former friends make the harshest of decisions. Now Beatrice has one last shot at answers... and at life.

And so begins the Neverworld Wake.
MY THOUGHTS: A group of prep school besties have gathered for a weekend of fun following their fist year of college. However, one is missing - the one who tragically committed suicide his senior year - or did he? Bea was in love with Jim and although she is reluctant to join the festivities, she wants answers so she joins that gang. Early on, something happens which leads to the group being stuck repeating the same 11.5 hours of the night over and over again and there is only one way one of them can escape.
I will be honest and admit that the first 75 pages of this book had me almost wanting to put it aside. I felt like I was watching a darker, more twisted version of Groundhog Day. However, once we got all the introductions and logistics out of the way, and hunkered down on the mystery aspect of the novel, I really did enjoy the story. In fact, I pretty much read this in a 24 hour span which is surprising considering it had such a slow start.
"Neverworld Wake" is full of unlikable characters and I really didn't know who to cheer on. However, in the end, it didn't really matter because Jim, the dead guy, ended up being kind of unlikable too. Several of the characters have the "spoiled little rich kid" act down pat which made them even more unbearable as well. Despite this though, there was a twist at the end that I didn't see fully coming (just suspected some of it) and I was glad that I stuck through it.
If you like mysteries and enjoy time travel books, this might be one you want to check out. It really is hard to explain without giving too much away and overall this books is probably better if you go in blindly like I did.