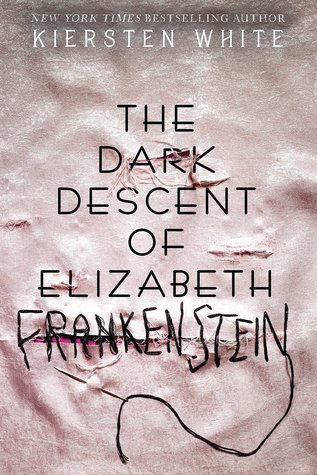 TITLE:
The Dark Decent of Elizabeth Frankenstein
AUTHOR:
Kiersten White
PUBLISHER:
Delacorte Press
PUBLISHING DATE:
September 25, 2018
FROM GOODREADS:
Elizabeth Lavenza hasn't had a proper meal in weeks. Her thin arms are covered with bruises from her "caregiver," and she is on the verge of being thrown into the streets . . . until she is brought to the home of Victor Frankenstein, an unsmiling, solitary boy who has everything--except a friend.
Victor is her escape from misery. Elizabeth does everything she can to make herself indispensable--and it works. She is taken in by the Frankenstein family and rewarded with a warm bed, delicious food, and dresses of the finest silk. Soon she and Victor are inseparable.
But her new life comes at a price. As the years pass, Elizabeth's survival depends on managing Victor's dangerous temper and entertaining his every whim, no matter how depraved. Behind her blue eyes and sweet smile lies the calculating heart of a girl determined to stay alive no matter the cost . . . as the world she knows is consumed by darkness.
MY THOUGHTS:
So I read this book so long ago but I feel it deserves some kind of recognition other since I enjoyed it so much. Even though technically what I remember most about it at this point is that I read it while my husband was having his gall bladder removed.
So Elizabeth is basically "adopted" by the Frankenstein family when she is young as a companion for their over-the-top, out-of-control son. She grows up in the household where nothing is ever quite normal and her main role in managing Victor's behaviors and actions. She and Victor in turn form this strange but strong bond. Victor goes off to school and suddenly disappears so Elizabeth embarks on an adventure to find him. She takes her friend and housemaid Justine along with her and they encounter a new friend Mary. Along the way, they also discover what happened to long-time family friend Henry.
I've never really read Frankenstein. Yes I know the tale and have seen some movies but I don't know all the intricacies of the novel. That being said, I still really enjoyed this book. White writes such a dark and twisted tales and I loved her character development. She manages to make the monsters of humanities so real yet also make them somewhat endearing. And Elizabeth shows quite a bit of character development during the novel and although I found her to be somewhat of a passive twit in the beginning, I found her to be a strong you lady with moral convictions at the end.
This book was dark and sad and wonderful. I thoroughly enjoyed reading it and will definitely be picking up more book by White. If you love dark tales, retellings or Frankenstein, then give this one a chance.
RATING:
4 PAWS