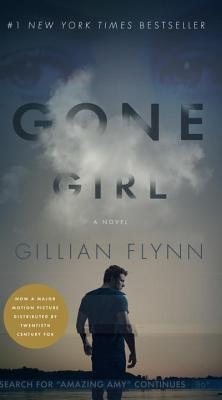 TITLE: Gone Girl
AUTHOR: Gillian Flynn
PUBLISHER: Broadway Books
RELEASE DATE: June 2012 (although the movie tie-in version was released on August 26, 2014)
FROM GOODREADS:
On a warm summer morning in North Carthage, Missouri, it is Nick and Amy Dunne's fifth wedding anniversary. Presents are being wrapped and reservations are being made when Nick's clever and beautiful wife disappears from their rented McMansion on the Mississippi River. Husband-of-the-Year Nick isn't doing himself any favors with cringe-worthy daydreams about the slope and shape of his wife's head, but passages from Amy's diary reveal the alpha-girl perfectionist could have put anyone dangerously on edge. Under mounting pressure from the police and the media--as well as Amy's fiercely doting parents--the town golden boy parades an endless series of lies, deceits, and inappropriate behavior. Nick is oddly evasive, and he's definitely bitter--but is he really a killer?
As the cops close in, every couple in town is soon wondering how well they know the one that they love. With his twin sister, Margo, at his side, Nick stands by his innocence. Trouble is, if Nick didn't do it, where is that beautiful wife? And what was in that silvery gift box hidden in the back of her bedroom closet?
MY THOUGHTS:
Ok, this review and this rating is about as difficult as the relationship between Nick and Amy. Let me say I went back and forth between 3 and 4 stars and finally settled with 4 for a few reasons. The book is definitely dark and twisted, which I almost always enjoy. In addition, Flynn must have an incredible, or maybe somewhat scary, mind to come up with this hot mess of a couple. And finally, it was very well written and engaging.
Now for some of the negatives. I didn't like any of the characters except Go, Nick's twin, who clearly got the brains, wit and wisdom of that twin relationship. She seemed to be the one with common sense and the guts to say what others were thinking. I find it amazing that I liked a book so well when I wasn't really invested in any of the characters. I even found Amy's parents annoying and flawed. Also, even with trying to avoid spoilers, which I did for the most part, I knew there was some big twist in the book and I don't think it was that hard to figure out. Now, I didn't expect the ending. It was rather shocking, but as I sit her and type, I can't figure out why I found such stupidity shocking.
The people in this book are in need of a whole lot of therapy. I commented about a hundred pages in that I didn't know where Amy went, but wished she had taken Nick...I stand by that opinion. All in all, I am somewhat surprised that I gave this 4 stars, but I think I am comfortable with that decision. I will read more of Flynn's works, just not right away.
RATING: 4 PAWS
I need to add that I watched the DVD the evening after finishing this book. My husband couldn't stand the first 45 minutes or so and we almost turned it off. However, his opinion was that it picked up in the end. This is really the first movie where I have enjoyed Ben Affleck as an actor. The movie was pretty true to the book although I really thing they missed the boat by failing to portray how much Amy disliked and resented her parents. Although it was already 2 1/2 hours long so I bet they ran short of time. I was a decent watch and I still ended up liking "Go" the twin the best.