I recently read this book because I have an ARC of book 2 which is released on January 20th. I also finished that one as well and will post the review closer to the release date.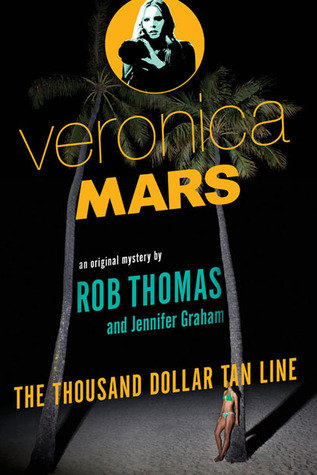 TITLE: Veronica Mars: The Thousand Dollar Tan Line
AUTHORS: Rob Thomas and Jennifer Graham
PUBLISHER: VINTAGE
RELEASE DATE: March 25, 2014 (out now)
FROM GOODREADS:
Ten years after graduating from high school in Neptune, California, Veronica Mars is back in the land of sun, sand, crime, and corruption. She's traded in her law degree for her old private investigating license, struggling to keep Mars Investigations afloat on the scant cash earned by catching cheating spouses until she can score her first big case.
Now it's spring break, and college students descend on Neptune, transforming the beaches and boardwalks into a frenzied, week-long rave. When a girl disappears from a party, Veronica is called in to investigate. But this is not a simple missing person's case. The house the girl vanished from belongs to a man with serious criminal ties, and soon Veronica is plunged into a dangerous underworld of drugs and organized crime. And when a major break in the investigation has a shocking connection to Veronica's past, the case hits closer to home than she ever imagined.
MY THOUGHTS:
First I have to admit I have never seen a Veronica Mars episode, although I plan on changing that sometime this year. However, I did watch the movie which came out last year and really enjoyed it. I was also approved for an early copy of Book #2, which is released January 20th so I checked this out from my local library and consumed it over the holidays.

I really wasn't as lost as I thought I might be. The book provides enough back story and everything made sense and fell into place. While this is a good mystery, what made the book even better was Veronica and the other characters. I LOVE LOVE LOVE Mac and wish she would get her own story someday. I also love Veronica's snarkiness - snark is my favorite thing in a character. Veronica has an endearing relationship with her father, which I can relate to, and I can't wait to see how things progress with Logan.

I assume all hard-core fans have already devoured this book or have it languishing on their TBR pile. However, I would recommend it to people who, like me, never got caught up in the series, as it is a well-written, fun read.
RATING: 4 PAWS