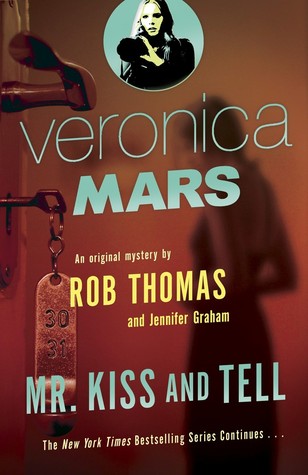 TITLE: Veronica Mars - Mr. Kiss and Tell
AUTHOR: Rob Thomas and Jennifer Graham
PUBLISHER: Vintage
PUBLISHING DATE: January 20, 2015
FROM GOODREADS:
I
n the second book in the New York Times bestselling mystery series, Veronica Mars is back with a case that will expose the hidden workings of one of Neptune's most murderous locations.

The Neptune Grand has always been the seaside town's ritziest hotel, despite the shady dealings and high-profile scandals that seem to follow its elite guests. When a woman claims that she was brutally assaulted in one of its rooms and left for dead by a staff member, the owners know that they have a potential powder keg on their hands. They turn to Veronica to disprove—or prove—the woman's story.

The case is a complicated mix of hard facts, mysterious occurrences, and uncooperative witnesses. The hotel refuses to turn over its reservation list and the victim won't divulge who she was meeting that night. Add in the facts that the attack happened months ago, the victim's memory is fuzzy, and there are holes in the hotel's surveillance system, and Veronica has a convoluted mess on her hands. As she works to fill in the missing pieces, it becomes clear that someone is lying—but who? And why?
MY THOUGHTS:
I am really surprised about how much I am enjoying these books. Especially given I have never seen a full episode of the actual series - only the movie that came out last year. Once again, there is a mystery to solve and Veronica does it in her usual snarky fashion. I love the character development between Veronica and Logan and it was nice to meet some other town residents and see their interaction with Veronica and her father. I really enjoyed the introduction of "Pony" the new family pet, which allowed for some additional growth between Veronica and Logan and it was nice to see their family unit grow. This book dealt with some deeper issues of Logan serving in the armed forces, and I guess it would have been too much to expect their relationship to go off without a hitch.

The storyline itself was interesting and the mystery was much more fulfilling that the first book in this installment. It was nice to see Veronica work with different individuals. Mac did not have a huge role in the book, and as she is my favorite side character, that was a tad disappointing, but I did enjoy what interaction was present.

Any fan of Veronica Mars will enjoy this series and it is perfect for new fans as well.
RATING: 4 PAWS