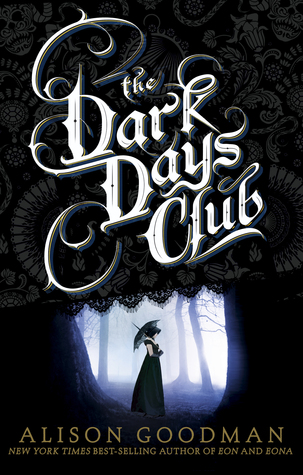 TITLE:
The Dark Days Club (Lady Helen #1)
AUTHOR:
Alison Goodman
PUBLISHER:
Viking Books for Young Readers
PUBLISHING DATE:
January 26, 2016
FROM GOODREADS:
New York Times bestseller Alison Goodman's eagerly awaited new project: a Regency adventure starring a stylish and intrepid demon-hunter!

London, April 1812. On the eve of eighteen-year-old Lady Helen Wrexhall's presentation to the queen, one of her family's housemaids disappears-and Helen is drawn into the shadows of Regency London. There, she meets Lord Carlston, one of the few who can stop the perpetrators: a cabal of demons infiltrating every level of society. Dare she ask for his help, when his reputation is almost as black as his lingering eyes? And will her intelligence and headstrong curiosity wind up leading them into a death trap?
MY THOUGHTS:
When I first started reading this book, I found it to be pretty slow paced. I understand that it is the first in a series and I expected quite a bit of world-building and set-up, which it did accomplish. At 496 pages, in my opinion it takes until about page 175-200 for much action to start taking place. So if you too find it slow, I would recommend that you don't give up until you at least get that far. However, once the plot starting kicking it, I was really pleased with almost all aspects of the book and devoured the rest of it in a day. Also, I'd like to add that I know this book is being marketed as a YA, but in all honesty, if it wasn't for Lady Helen just turning 18, there really isn't much about it that I feel makes it YA and I think it could just as easily be classified as a adult book (of course to me it doesn't matter how they decide to classify it).

Set in Regency London, upon her 18th birthday, Lady Helen is preparing to make her entry into proper society and find a suitable husband who will represent her and her family well and erase some past family embarrassment. When she was 8, Lady Helen's mother and father were killed, and most of England believes her mother died a traitor to the throne. Lady Helen has always questioned what happened to her parents, and becoming an adult has only fueled that fire - that and the fact that she learns she has some unique capabilities such as extreme athletic ability, unique healing capabilities and the ability to see auras and determine if someone is in fact possessed by a demon. Lady Helen soon discovers she is a Reclaimer and as a rare breed, she is being recruited to join the "Dark Days Club" where she can assist in keeping evil from causing havoc and eventually taking over the land.

I really liked Lady Helen and many of the other characters in the book. Lady Helen is strong, curious and is not overly consumed with finding the appropriate mate and becoming a proper wife. She does not back down from challenges and her friendship with her personal maid, Darby, is admirable because she truly sees Darby as a friend and partner-in-crime and not just as a servant. There are plenty of other characters to enjoy as well. The Duke of Selbern starts courting Lady Helen, while Lord Carlston, who is scandalous and has been questioned for killing his previous wife Elise, takes Darby under his wing to assist her in learning about her newfound capabilities. There is also a lot of tension because the Duke and Lord Carlston hate each other because they both vied for Elise's love and affection.

I commented several times while reading this book that it is extremely detailed and sometimes I felt like I was drudging through a regency fashion magazine. That being said, Goodman is a wonderful writer and I respect the amount of research she must have done to accurately portray the time period. The ending to the book did not disappoint and definitely left me wanting the sequel. I have not read "Eon" and "Eona" by Goodman, but definitely think I may be seeking them out in 2016 and giving them a go. If you like paranormal books, historical fiction, action and good writing, then I suggest you give "The Dark Days Club" a chance.

Disclaimer: I received a copy of this book from the Penguin First to Read Program in exchange for an honest review.
RATING: 4 PAWS