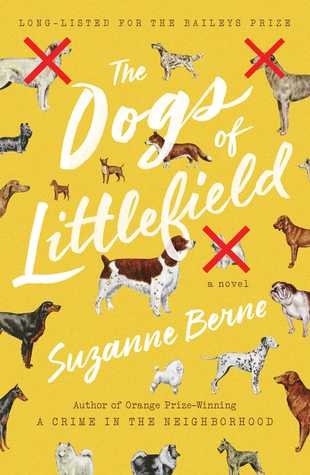 TITLE:
The Dogs of Littlefield
AUTHOR:
Suzanne Berne
PUBLISHER:
Simon & Schuster
PUBLISHING DATE:
January 12, 2016
FROM GOODREADS:
A "brilliantly done" (Sunday Times, London) comedy of manners that explores the unease behind the manicured lawns of suburban America from the Orange Prize–winning author of A Crime in the Neighborhood.

Littlefield, Massachusetts, named one of the Ten Best Places to Live in America, full of psychologists and college professors, is proud of its fine schools, its girls' soccer teams, its leafy streets, and charming village center.

Yet no sooner has sociologist Dr. Clarice Watkins arrived to study the elements of "good quality of life" than someone begins poisoning the town's dogs. Are the poisonings in protest to an off-leash proposal for Baldwin Park—the subject of much town debate—or the sign of a far deeper disorder? Certainly these types of things don't happen in Littlefield.

With an element of suspense, satirical social commentary, and in-depth character portraits, Suzanne Berne's nuanced novel reveals the discontent concealed behind the manicured lawns and picket fences of darkest suburbia. The Dogs of Littlefield is "a compelling, poignant yet unsentimental novel that examines life, love, and loss" (Sunday Mirror, UK).
MY THOUGHTS:
I honestly have to say I have a lot of conflicting feelings about this book. It's a mystery, but not really a mystery, it has a lot to say about stereotypes, but what does it really say, and on and on - you get the point.

The story centers around Littlefield, Massachusetts, supposedly one of the best places to live, which I basically see as a "preppy little suburb." There is a huge uproar on whether the park in town should allow space for a dog park so the dogs can run free and play during portions of the day. This debate soon divides the town with graffiti protests popping up everywhere and family pets soon dying.

There are quite a few characters in the book, but mainly it centers around the dysfunctional family of Margaret and Bill Downing and their daughter Julia. Their marriage is slowly falling apart, Margaret enters an affair even though her heart isn't really into it, they both are seeing hallucinations, and Julia becomes obsessed with death after Mike the goldfish dies and she wasn't told and therefore couldn't give it a proper burial. And that's just the tip of the iceberg. Add in Dr. Clarice Watkins, who has come to town to teach for a year at a local college but who is actually doing some sort of sociological study on the residents, and at times you might wonder what in the world is hidden in the drinking water of Littlefield.

I liked this book well enough. There were a few humorous parts and perhaps because of my own childhood, I like reading about dysfunctional families who often appear normal from the outside. While not a whole lot of the book centers on the dogs dying, enough of it did so if nothing, I mainly kept reading to see what happened to them. This books strong point is its take on stereotypes. Everyone assumes Dr. Watkins had a hard time finding a rental in town because she was African American and that she is Muslim because she wears a turban - when in actuality she wears a turban around her hair because she is secretly in love with her thesis adviser and his wife wears her hair in that fashion - nothing more. Also, everyone assumes the murderer is the Ethnic guy who attends law school and works in the local diner making donuts every morning, just because he is "different."

I think that perhaps my favorite character in the book is Julia, the daughter. She is so lost in the middle of the drama between her two parents that she doesn't know which way to turn. In fact, I feared she might suffer the same outcome as the family pets in town - and perhaps she does, you will just have to read it to find out.

As I mentioned, I did like this book well enough, but it just wasn't what I expected. While reading it, I did manage to discover what is now one of my favorite book quotes - "Kids are for people who can't have dogs." Absolutely classic! Overall it is fairly short, which is good, because had it been longer, I might have lost interest. Just don't pick this book up if you only expect a good old-fashioned mystery because you really won't get it.

I received this book from the publisher and Edelweiss in exchange for an honest review.
RATING: 3 PAWS