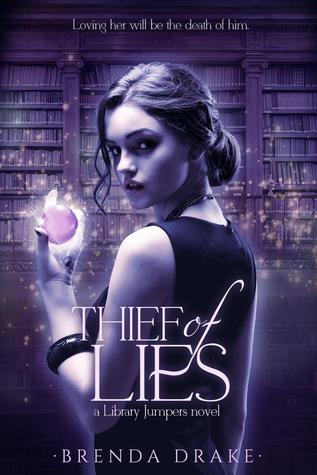 TITLE:
Thief of Lies (Library Jumpers #1)
AUTHOR:
Brenda Drake
PUBLISHER:
Entangled Teen
PUBLISHING DATE:
January 5, 2016
FROM GOODREADS:
Gia Kearns would rather fight with boys than kiss them. That is, until Arik, a leather clad hottie in the Boston Athenaeum, suddenly disappears. While examining the book of world libraries he abandoned, Gia unwittingly speaks the key that sucks her and her friends into a photograph and transports them into a Paris library, where Arik and his Sentinels—magical knights charged with protecting humans from the creatures traveling across the gateway books—rescue them from a demonic hound.

Jumping into some of the world's most beautiful libraries would be a dream come true for Gia, if she weren't busy resisting her heart or dodging an exiled wizard seeking revenge on both the Mystik and human worlds. Add a French flirt obsessed with Arik and a fling with a young wizard, and Gia must choose between her heart and her head, between Arik's world and her own, before both are destroyed.
MY THOUGHTS:
This is the second book which has been sent to me by Entangled Teen in exchange for an honest review and I can say that so far I am impressed. This book has been highly anticipated in the blogging/booktube community for months, primarily because everyone sees the plot centers around "library jumping" and let's get real, most book lovers love books about books.

Suddenly one day Gia learns she is a "sentinel." In other words, it is basically her duty to travel to an magical universe where she plays a huge part in saving the land since she is allegedly the key to some ancient prophecy. The Sentinels' mode of transportation is though various books in libraries scattered all over the world, which is a unique and not always easy way to travel. Throughout the book Gia discovers that she is not an average teen and learns more than she ever wanted to know about family and other long-lost relatives.

I liked Gia, but didn't love her. It is nice have a MC who is a teen who is witty, snarky and stronger than she believes. Gia is also a smart individual and it is fun for the reader to travel alongside of her as she learns about her history, a new magical land, and her abilities. The main problem I have with the book is the love triangle. I have come to expect them with many YA books and while they don't stop me from picking a book up, they do somewhat hinder my reading enjoyment. I will add though that while Gia tends to be torn between two guys - Arik and Bastien - in this setting, Sentinels are betrothed to the noble class and have no choice when it comes to matters of the heart, which is where Bastien enters. Making the reason for the triangle part of the plot was a smart move by Drake and in my honest opinion, lessens Gia's fickleness to some degree.

There is plenty to like about this book including wonderful side characters, an interesting magical system, unique supernatural/magical species and don't forget, libraries and books. I am definitely interested to see what happens in the next installment and this is a fast-paced,action book which I think many people will enjoy.

As mentioned, a review copy was provided by Entangled Teen via NetGalley in exchange for an honest review. Since I have really good look with their titles, I am definitely curious to see what else Entangled Teen offers in the future.
RATING: 4 PAWS