TITLE:
Lumberjanes Vol. 2: Friendship to the Max
AUTHOR:
Noelle Stevenson, Grace Ellis, Shannon Watters, Brooke Allen, Maarta Laiho
PUBLISHER:
BOOM! Box
PUBLISHING DATE:
October 13, 2015
FROM GOODREADS:
Jo, April, Mal, Molly, and Ripley are not your average campers and Miss Qiunzella Thiskwin Penniquiqul Thistle Crumpet's Camp for Hardcore Lady-Types is not your average summer camp. Between the river monsters, magic, and the art of friendship bracelets, this summer is only just beginning. Join the Lumberjanes as they take on raptors and a sibling rivalry that only myths are made of.
MY THOUGHTS:
I really enjoyed this second volume of Lumberjanes. The girls are still working together to figure out the many mysteries of their summer camp and the underlying message throughout is that they can accomplish anything as long as they stay together and remain friends. The story line progressed nicely throughout the book, and it's hard to find much fault with the style or artwork. I didn't really seem to enjoy this one as much as Volume 1 and it's hard to pinpoint why, but I'm still glad I picked it up from the library (where I get most my graphic novels because I hate paying so much for something that I can read so quickly). If you liked the first book in this series, then I don't really think you are risking very much by giving this one a go.
RATING: 3 PAWS
TITLE: The Unbeatable Squirrel Girl Vol. 1: Squirrel Power
AUTHOR: Ryan North & Erica Henderson
PUBLISHER: Marvel
PUBLISHING DATE: September 1, 2015
FROM GOODREADS:
Wolverine, Deadpool, Doctor Doom, Thanos: There's one hero that's beaten them all-and now she's got her own ongoing series! (Not that she's bragging.) That's right, you asked for it, you got it, it's SQUIRREL GIRL! (She's also starting college this semester.) It's the start of a brand-new set of adventures starring the nuttiest and most upbeat super hero in the world!
MY THOUGHTS:
This was a super-cute graphic novel that I knew I had to read as soon as I saw a few individuals on Booktube rave about it. Doreen Green has just started college and unbeknownst to her roommate and those around her, she already has a full-time job fighting crime as Squirrel Girl. This book is quirky and fun and the artwork is bright and colorful. I love Doreen's characters because she is a "real" person. She is trying to live a normal life despite fighting crime, along with her squirrel sidekick - Tippy Toe or "T." I love how Doreen solves crime with her mind and wit as much as with her abilities and during the reading of this graphic novel, my husband asked me several times what I was laughing about. I should add that I absolutely LOVE Doreen's new roommate and her cat Mew, both of who have quite a few hangups and who reminds me somewhat of Paris Geller from Gilmore Girls. This book combines the first 4 issues of the comic books, plus an old one which shows Squirrel Girl's introduction to Marvel comics. I already have Vol. 2 waiting on my shelf from my library to dive into and I can't wait to learn more about this world.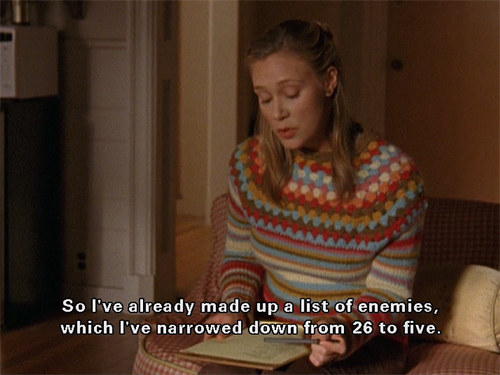 RATING: 4 PAWS