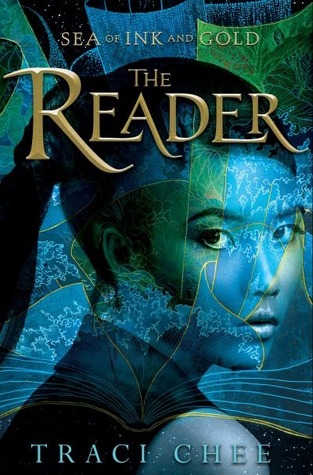 TITLE:
The Reader (Sea of Ink and Gold #1)
AUTHOR:
Traci Chee
PUBLISHER:
Putnam
PUBLISHING DATE:
September 13, 2016
FROM GOODREADS:
Sefia knows what it means to survive. After her father is brutally murdered, she flees into the wilderness with her aunt Nin, who teaches her to hunt, track, and steal. But when Nin is kidnapped, leaving Sefia completely alone, none of her survival skills can help her discover where Nin's been taken, or if she's even alive. The only clue to both her aunt's disappearance and her father's murder is the odd rectangular object her father left behind, an object she comes to realize is a book—a marvelous item unheard of in her otherwise illiterate society. With the help of this book, and the aid of a mysterious stranger with dark secrets of his own, Sefia sets out to rescue her aunt and find out what really happened the day her father was killed—and punish the people responsible.
MY THOUGHTS:
I know this book is getting a lot of hype, which often scares me and to be brutally honest, usually turns me against reading a title until it has been out a while. However, when I learned this was a book about reading AND had the opportunity to read an advanced copy, I simply couldn't pass it up. I feel pretty safe in saying this book is well deserving of the hype it is given and I really enjoyed it for the most part.
I must start out by saying this book has a lot going on it it. When it starts out, we are introduced to Sefia and her aunt Nin, who have been on the run for several years following the murder of Sefia's father. Sefia is in possession of a magical square item she keeps hidden in the bottom of her pack and when Nin is kidnapped, Sefia slowly uncovers her past and learns the power of this item. She also learns how important this book is and as she teaches herself to read, starts to understand why it is such a coveted object. Along the way Sefia meets up with Archer, a mute boy whom she rescues from a life of fighting, and together they go on a heck of an adventure. This book has it all - books, a mystical library, assassins, pirates, fighting, family and a small amount of romance. And by small, I mean a minute, slow-build kind which I am TOTALLY accepting of in books.
Chee clearly has a mind for adventure. She weaves Sefia and Archer's tale in and out of various settings and worlds with ease. The book kept me engrossed and I found myself very invested in Sefia and Archer's characters and was truly interested in what happened to them. The only real problem I had with this book is that it jumps around a lot and it takes a while for the reader to to get a good grasp on the various characters. There are a lot of POV's and time shifts throughout the entire novel. While I found this annoying at first, there is definitely an "A-HA" moment in the book which makes it all worth while.
I think "The Reader" will be a very popular book and if you enjoy adventure and fantasy, this tale is probably for you. I also know a lot of readers absolutely have to pick up anything with pirates in it so this should definitely go on their TBR's. I'm glad I started the "Sea of Ink and Gold" series and will not eagerly anticipate the next installment.
I received this book from the Penguin First to Read program in exchange for an honest review.
RATING:
4 PAWS