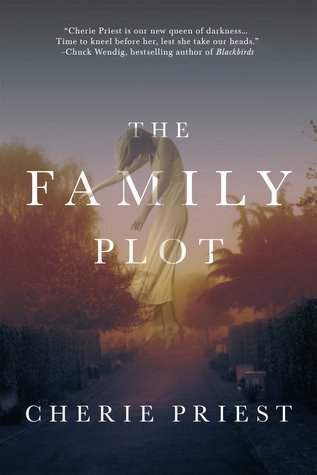 TITLE:
The Family Plot
AUTHOR:
Cherie Priest
PUBLISHER:
Tor
PUBLISHING DATE:
September 20, 2016
FROM GOODREADS:
Chuck Dutton built Music City Salvage with patience and expertise, stripping historic properties and reselling their bones. Inventory is running low, so he's thrilled when Augusta Withrow appears in his office offering salvage rights to her entire property. This could be a gold mine, so he assigns his daughter Dahlia to personally oversee the project.

The crew finds a handful of surprises right away. Firstly, the place is in unexpectedly good shape. And then there's the cemetery, about thirty fallen and overgrown graves dating to the early 1900s, Augusta insists that the cemetery is just a fake, a Halloween prank, so the city gives the go-ahead, the bulldozer revs up, and it turns up human remains. Augusta says she doesn't know whose body it is or how many others might be present and refuses to answer any more questions. Then she stops answering the phone.

But Dahlia's concerns about the corpse and Augusta's disappearance are overshadowed when she begins to realize that she and her crew are not alone, and they're not welcome at the Withrow estate. They have no idea how much danger they're in, but they're starting to get an idea. On the crew's third night in the house, a storm shuts down the only road to the property. The power goes out. Cell signals are iffy. There's nowhere to go and no one Dahlia can call for help, even if anyone would believe that she and her crew are being stalked by a murderous phantom. Something at the Withrow mansion is angry and lost, and this is its last chance to raise hell before the house is gone forever. And it seems to be seeking permanent company.

The Family Plot is a haunted house story for the ages-atmospheric, scary, and strange, with a modern gothic sensibility to keep it fresh and interesting-from Cherie Priest, a modern master of supernatural fiction.
MY THOUGHTS:
I really wish I had a chance to read this book on a dark and stormy day, because basically, that was all I found missing. I have always enjoyed Priest's writing since I started her Eden Moore series years ago(which I still need to finish BTW) and when she released Maplecroft, my adoration soared. Therefore, I had extremely high expectations for "The Family Plot" and in my opinion the book really delivered and met them.

The book starts as Music City Salvage takes a job salvaging the historical Withrow Estate in Chattanooga, a job which will either make or break the company. Chuck Dutton sends his daughter Dahlia, and three other crew members to the home for a week to work and in order to save money, they camp out in the old mansion. Shortly after their arrival, strange things start to happen and it takes no time for all four members to realize they are not the only ones staying on the property - they are just the only ones who are still alive. Also, while working, they uncover an old family cemetery which they are told is just the remains of an old Halloween prank, but it it really? You'll just have to read to find out.

Priest creates some truly wonderful characters in the pages of this book. Dahlia has an honest respect for the homes she salvages, and if she had her way, she would chose to restore the Withrow Estate to its former glory, rather than deconstruct it piece by piece. She is recently divorced and very bitter about losing her cherished home, not to mention the years wasted with her husband. Bobby, Dahlia's cousin, and his son Gabe, are also working on the job and there is plenty of tension between the three. Bobby took Dahlia's husband's side during the divorce, and Gabe is a older teen basically having to raise his irresponsible father and maintain peace between Bobby and Dahlia. Rounding off the crew is Brad, the preppy graduate student who probably has no business doing salvage work. Although not quite a great comparison I am sure, I kept imagining him as the Shaggy of the Scooby Doo crew. I loved getting to know more about these individuals as the story progressed and a reader couldn't ask for a more take-charge, kick-ass female than Dahlia, the boss of the whole job.

To me, this book read like a modern day gothic ghost story. There were some terrifically horrifying scenes and Priest creates a dark moody atmosphere with her descriptions. I often felt like a fly on the wall of the Withrow estate myself...or perhaps a rat in the attic. If you love ghost stories and want a great read for the upcoming Fall/Halloween season, they you need to pick up a copy of "The Family Plot." When all is said and done, this will surely be one of my favorite reads of 2016.
RATING: 5 PAWS