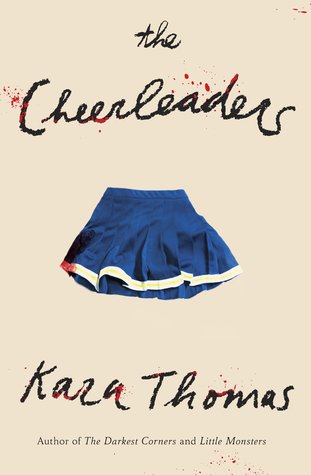 TITLE: The Cheerleaders
AUTHOR: Kara Thomas
PUBLISHER: Delecorte Press
PUBLISHING DATE: July 31, 2018
FROM GOODREADS:
There are no more cheerleaders in the town of Sunnybrook.
First there was the car accident—two girls gone after hitting a tree on a rainy night. Not long after, the murders happened. Those two girls were killed by the man next door. The police shot him, so no one will ever know why he did it. Monica's sister was the last cheerleader to die. After her suicide, Sunnybrook High disbanded the cheer squad. No one wanted to be reminded of the girls they lost.
That was five years ago. Now the faculty and students at Sunnybrook High want to remember the lost cheerleaders. But for Monica, it's not that easy. She just wants to forget. Only, Monica's world is starting to unravel. There are the letters in her stepdad's desk, an unearthed, years-old cell phone, a strange new friend at school. . . . Whatever happened five years ago isn't over. Some people in town know more than they're saying. And somehow Monica is at the center of it all.
There are no more cheerleaders in Sunnybrook, but that doesn't mean anyone else is safe.
MY THOUGHTS: Overall I can say that I was pleasantly pleased with "The Cheerleaders" and had a lot of fun while reading it. A few years back, five popular cheerleaders ended up dead - some murdered and some by accident. But the investigation seemed to wrap up too neatly and five years later, Monica is still trying to figure out what really happened to her sister and her friends.
This book had to potential to combine a whole lot of annoying high school tropes and amazingly, it stayed away from some of them. There really isn't any "insta-love" which is good because it annoys the hell out of me. What you will find though is a bunch of annoying popular kids, a brooding misunderstood Judd-Nelson-Breakfast-Club character and a decent mystery.
I will say that the mystery aspect of the book was pretty good. I had some suspicions about what was going on but there was a twist at the end that I totally did not see coming. Also, I enjoyed Monica as a MC but honestly, Ginny stole the show. Monica is bordering the edge between popular chick and emo teen and she teams up with Ginny, the quiet sideline character, who helps her solve the mystery and possibly becomes the best friend Monica will ever have. I freakin' loved Ginny so much - isn't it obvious.
I also have to give Thomas credit because the parents actually play a big role in this YA book. They are not non-existent and in fact, are all up in their kids' business much of the time - just like high school parents should be.
While this is still a YA mystery, it's done well and does tackle some mature themes. I'm glad I grabbed it from my library and would recommend it to any mystery lovers out there who can withstand a little high school angst.
RATING: 4 PAWS