TITLE
: Santa 365 (A Bernie and Chet e-short story)
AUTHOR:
Spence Quinn
PUBLISHER
: Atria Books
PUBLISHING DATE:
November 24, 2015
FROM GOODREADS:
Santa doesn't just deliver gifts—he takes them too!—in this delightful holiday e-short featuring New York Times bestselling sleuths Chet and Bernie.

He sees you when you're sleeping. He knows when you're awake. This year, jolly old St. Nick knows Bernie has been sleeping on preparations for a special Christmas celebration with his son Charlie. Enter Plumpy Napoleon, fresh from a short stint in prison, to save Bernie from the naughty list. Plumpy calls his latest business plan "Santa 365." For a small fee (that only gets bigger), he'll fill your life with holiday cheer, including elves, a festive party, gifts, and even a Christmas tree delivered right to your front door. Bernie signs on for the full yuletide experience. But after the blowout holiday bash, Bernie and Chet the dog discover one of Santa's helpers helped himself to more than Christmas candy. The intrepid duo sets out to find the sticky-fingered perp and reclaim the stolen goods. Add in a surprise visit from Bernie's mom, two elderly sisters seeking their own brand of justice, and an elf with a stocking full of secrets, and you have a Christmas mystery that only Chet and Bernie could possibly unwrap.
MY THOUGHTS:
I have always been interested in start the Chet and Bernie mystery series, but even though I picked up the first book, I have never started it. When I saw this available on Netgalley, I figured it would be a nice introduction to the characters, and also be a quick Christmasy read.

I really like the way the story is told - through the eyes of Chet - Bernie's dog and partner in his PI business. Chet is a great narrator and a funny pooch to boot! It Christmas and Bernie has run into an ex-offender, Plumpy, who was convicted of a Ponzi scheme about a year ago and who is not out on parole and running a Santa-based business. There is a small mystery, a missing person, and lots of Christmas related activities. Bernie and Chet figure out what is going on and manage to save the day for lots of people, as well as an animal rescue.

This story was extremely short, and I feel it could have been longer. It might have actually provided more story if it had done so. The way it was, I never felt truly invested in what was happening. However, like I mentioned, it was a good introduction to this series and I definitely plan on delving into it further in the upcoming year.
RATING: 3 PAWS
***********************************************************************************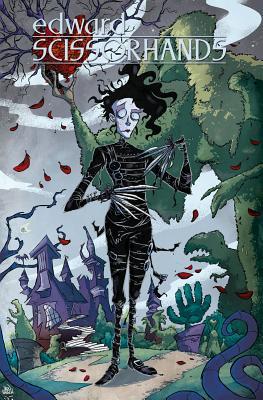 TITLE: Edward Scissorhands Vol. 1 Parts Unknown
AUTHOR: Kate Leth, Drew Rausch
PUBLISHER: IDW Publishing
PUBLISHING DATE: May 19, 2015
FROM GOODREADS:
An all-new adventure revisiting Edward Scissorhands' two decades after the end of the fan-favorite movie! In a castle just outside a sleepy suburban town, a brilliant inventor created Edward Scissorhands... but left him tragically unfinished. Two generations of exile have left Edward digging through abandoned experiments, but once he wakes up a creature left buried, he discovers he isn't the only one missing a vital piece. As Edward tries to fix a grave mistake, he comes face-to-face with a teenage girl who was sure he was only myth... despite the stories her grandmother told her about the man she could never touch.
MY THOUGHTS:
I received a copy of this from Netgalley some time ago but had trouble reading it on my Kindle so I picked this up from the local library last week when I saw it. I have always loved Edward Scissorhands...or should I say I always loved Johnny Depp's Edward Scissorhands. The book picks up two generations later than then original movie and Edward is discovered by Beth, Kim's granddaughter. She sets out to prove that Edward is not a murderer and together they try to find a local missing boy.

The story was enjoyable enough, but didn't impress me too much. The artwork is well done and in my opinion, edgy, which I did enjoy. I read this book in one sitting, and since I already have the next copy as well, I am sure I will continue on with the series. If you love Edward Scissorhands, you will not be disappointed in the book, but if you are just looking for some new graphic novels to check out, I believe there are others out there you might want to pick up first.
RATING: 3 PAWS