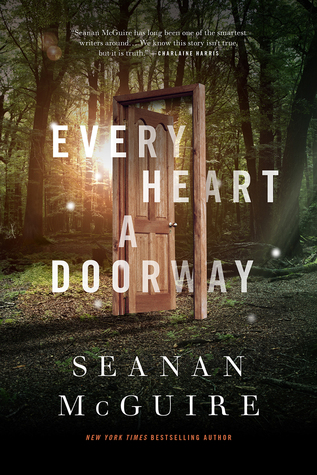 TITLE:
Every Heart a Doorway
AUTHOR:
Seanan McGuire
PUBLISHER:
Tor.com
PUBLISHING DATE:
April 5, 2016
FROM GOODREADS:
Eleanor West's Home for Wayward Children
No Solicitations
No Visitors
No Quests

Children have always disappeared under the right conditions; slipping through the shadows under a bed or at the back of a wardrobe, tumbling down rabbit holes and into old wells, and emerging somewhere... else.

But magical lands have little need for used-up miracle children.

Nancy tumbled once, but now she's back. The things she's experienced... they change a person. The children under Miss West's care understand all too well. And each of them is seeking a way back to their own fantasy world.

But Nancy's arrival marks a change at the Home. There's a darkness just around each corner, and when tragedy strikes, it's up to Nancy and her new-found schoolmates to get to the heart of the matter.

No matter the cost.
MY THOUGHTS:
I had no idea when I picked up this book that I would enjoy it as much as I did. In addition, I purposefully stayed away from a lot of reviews because the book is rather short and I thought for sure I would accidentally stumble upon some spoilers. I had no idea what beauty awaited between the pages.

Eleanor West runs a home for wayward children. Basically, she takes in teens whose parents think are troubled or disturbed but who in all reality, have traveled through doorways to different fantastical locations and whether by their own choice or accidentally, have returned to the modern world. I honestly expected something sinister from Eleanor when I first started this book and although I don't know why, I'm glad that was not the case. She is truly trying to help these "lost" children and along with her very interesting staff (think 30 year old in an 1o year old body who ages backwards) may be the only ones who can help.

My favorite thing about "Every Heart a Doorway" is the characters. Although Nancy is struggling with her return from the Land of the Dead, and I imagined all along she was a problem waiting to happen, she was very likable and I was honestly attached to her feelings and outcome. However, the other characters are so rich in depth and such an important element to the plot, I can't even say Nancy is really the MC. I adore Kade, a transgender characters and Sumi is my absolute favorite. McGuire's portrayal of Jack and Jill, twins who are not-so-affectionately termed "The Adams Twins" by other residents is spot-on errie, beautiful and rather disturbing.

My only real complaint is that I wish this book was longer. I really wanted to learn more about the West Home for Wayward Children. However, I can appreciate the fact that were it actually longer, it would probably take away from some of the fairy tale-esque qualities and be less lyrical and magical. I basically would recommend this book to anyone and everyone but especially to people who enjoy magical fantastical tales - with a dark twist.
RATING: 5 PAWS