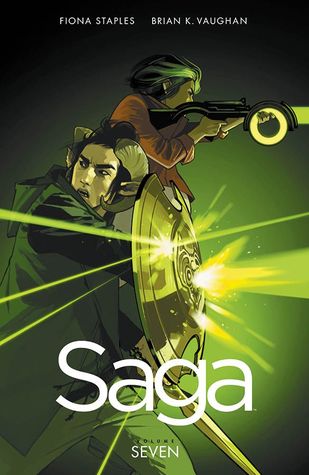 TITLE: Saga Vol. 7
AUTHORS: Fiona Staples & Brian K. Vaughan
PUBLISHER: Image Comics
PUBLISHING DATE: April 4, 2017
FROM GOODREADS:
From the worldwide bestselling team of Fiona Staples and Brian K. Vaughan, "The War for Phang" is an epic, self-contained
Saga
event! Finally reunited with her ever-expanding family, Hazel travels to a war-torn comet that Wreath and Landfall have been battling over for ages. New friendships are forged and others are lost forever in this action-packed volume about families, combat and the refugee experience.
MY THOUGHTS:
I have to admit that Vol. 7 kind of fell flat for me. There were aspects I liked, such as the introduction of a new species/friends on one of the home planets which strongly resemble walking, talking merekats. I also enjoy seeing Hazel grow and mature. Marko and Alana are expecting a new baby, and the relationship between the two of them is stronger than ever. And I can't forget Lying Cat. He's still present and going strong. However, the entire time I was reading this I couldn't help but wonder if there is an ending planned for the series. I felt like some of the story lines are being drawn out too much and it just didn't hold my attention like some of the earlier volumes. I will continue on, especially since I'm able to grab these from my local library, but I look forward to some changes to shake things up.
RATING: 3 PAWS