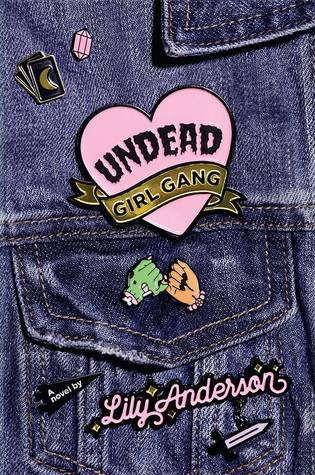 TITLE: Undead Girl Gang
AUTHOR: Lily Anderson
PUBLISHER: Razorbill
PUBLISHING DATE: May 8, 2018
FROM GOODREADS:
Mila Flores and her best friend Riley have always been inseparable. There's not much excitement in their small town of Cross Creek, so Mila and Riley make their own fun, devoting most of their time to Riley's favorite activity: amateur witchcraft.

So when Riley and two Fairmont Academy mean girls die under suspicious circumstances, Mila refuses to believe everyone's explanation that her BFF was involved in a suicide pact. Instead, armed with a tube of lip gloss and an ancient grimoire, Mila does the unthinkable to uncover the truth: she brings the girls back to life.

Unfortunately, Riley, June, and Dayton have no recollection of their murders, but they do have unfinished business to attend to. Now, with only seven days until the spell wears off and the girls return to their graves, Mila must wrangle the distracted group of undead teens and work fast to discover their murderer...before the killer strikes again.
MY THOUGHTS:
I wasn't sure what to expect when I started reading "Undead Girl Gang" but having heard such good things, I decided just to jump right in. And man, what a pile of fun and emotions I got. Mila is a Latina protagonist attending a small school, Fairmont Academy. Within the course of two weeks, three young ladies wind up dead - Mila's best friend Riley, and two "mean girls" June and Dayton. The town believes is was some misguided suicide pact but Mila is confident that at least Riley was murdered. Since Riley and Mila were both Wiccan, Mila decides to bring Riley back for a week so she can find the killer. The only problem, Mila is either stronger than she thinks, or maybe just careless, because not only does she bring back Riley, but June and Dayton show up too.
Mila is a great MC. She is snarky, headstrong and stubborn. She is strongly devoted to her friend and misses her terribly. She is definitely an outsider in her town and doesn't even really get along with her family very well. Mila has a HUGE crush on Riley's brother, something she has kept under taps when Riley was alive. As the book progresses, even June and Dayton become likable. Anderson does a wonderful job of showing how people can make the wrong assumptions about others, and the harm that can ultimately create.
So this book kind of has it all. There are some horror elements because of girls return as zombies nad because of the witchcraft. If the girls get more than 100 feet from Mila, their "glamour" wears off and they appear in true zombie form. Plus, since Riley and Mila were not really friends with June and Dayton before the deaths, there is some animosity between all of them. However, while working on the mystery of what really happened, a strange bond forms and at the end of the week, all four girls are pretty much besties. While that is great, they know everything is going to end at the end of the seventh day so that is always looming on the horizon of whatever they do.
This book provided a great tale of friendship and a strong mystery. I really enjoyed the Wiccan elements and the book has a very diverse group of characters. I did feel sorry for Mila because you know she is going to lose her best friend all over again, but I knew she was strong and would pull through. The mystery kept me guessing and the action at the end made everything fall into place. I also really appreciate that "Undead Girl Gang" is a stand alone novel.
If you like mysteries, aren't afraid of horror and are in love with "snark" as much as I am, pick up this book. I doubt you'll regret it. I will add that I didn't find that much in the book "horrific" so don't let that scare you away if you are not a fan of dark and twisty fiction like me. In fact, I really can't think of anything I disliked about this novel.