1. HAVE YOU EVER WATCHED A MOVIE, TELEVISION SHOW, OR READ A BOOK WITH A ROBOT DOG CHARACTER?
First there was C.H.O.M.P.S.
And then Dynomutt
And I just started "Your Robot Dog Will Die" which will have quite a few.
2. IF YOU COULD ONLY AFFORD ONE CANINE ROBOT WOULD YOU CHOSE A SMALL AND SMART COMPANION, OR A LARGE LOYAL MACHINE THAT COULD HELP WITH HEAVY WORK AND GUARD YOUR HOME? WHY?
So I would chose a large loyal machine instead of a small one. For starters, I have always loved big dogs and would want to continue that tradition (although I'd rather have one of each). Secondly, I live in the third largest city in my state and feel a bigger one would be necessary for protection. Although I feel that a larger one would come with larger maintenance bills. Hmmmm....
3. IF YOU WERE GOING TO ORDER A COMPANION DOGGO-DROID WHAT ARE THREE THINGS YOU WOULD WANT TO MAKE SURE IT WAS PROGRAMMED TO DO?
Talking because come on, haven't we all wanted a talking dog? Taking out the trash because I HATE taking out the trash and fetching because all work and no play and yadda yadda yadda.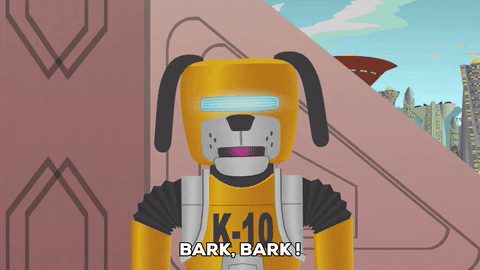 4. WOULD YOU PREFER YOUR K9 BOT LOOK LIKE A MACHINE, OR BE PADDED AND COVERED IN FAKE FUR TO LOOK LIKE THE REAL THING?
If I had a robot dog, I'd want it to look like a robot. Otherwise, I think it could look really creepy. I actually had a robot dog toy once and still do, but I'm not sure he still works.
5. WOULD YOU ORDER YOU DOGBOT TO LOOK LIKE ANY SPECIFIC BREED?
I know, many expect me to say boxer, but I have real dogs for that. I would have to say Great Dane. I've always wanted one and this way, I wouldn't have to feed it or clean up after the messes it leaves in the backyard - points Mr. Barb makes whenever I say I want one.
6. WHAT WOULD YOU NAME YOUR DROID FRIEND? WHY?
Bowie, because I've always wanted a dog named that but Mr. Barb isn't too keen about it.
My robot dog, mine choice :)
7. IF YOU WROTE A SCIENCE FICTION STORY WITH A DOGGO DROID MAIN CHARACTER WHAT WOULD THE PREMISE BE AND WHAT TITLE WOULD YOU HAVE II MIND?
So the title would be "Robo Doggo" and it would be set in a post-apocalyptic world where a robot dog ventures out and rescues the remaining real canines and brings them back to a central location for care and repopulation. Also, it would allow only good-hearted animal lovers to live and would terminate all others with lasers which shoot from its eyes upon first contact.
8. IF YOU, IN REALITY, COULD OWN A CANINE ROBOT, WOULD YOU? WHY?
As much fun as it would seem, I'd probably say no. I love so much about real dogs - their personalities, their quirks, their moods and their furry cuddles and kisses. I would miss all of with a robot dog.
If you want to do the Robot Dog Tag, feel free to do so and leave me a link so I can visit. Also be sure to credit La La and link back to her blog.